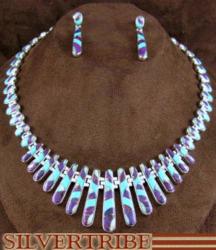 Being the online leader in American Indian jewelry allows us to offer our entire collection authentic Native American jewelry at unheard of prices
Scottsdale, AZ (PRWEB) May 25, 2012
SilverTribe.com, the online leader in Turquoise fashion and Southwest jewelry is welcoming summer by slashing prices on the season's hottest summer trends during a massive Memorial Day sale.
Celebrities and fashion enthusiasts alike are adding beautiful Native American jewelry to their summer wardrobe, and it's not hard to see why.
"It's time to welcome the long, carefree days of summer with a unique fashion statement," said SilverTribe's spokesperson. "Anyone who has seen their favorite celebrity sporting a beautiful turquoise necklace knows what the bid fashion trend is this summer."
SilverTribe is making it easy for customers of any budget to flaunt the same stunning fashions as their favorite stars. With heavily discounted prices and free shipping, the online leader in turquoise jewelry is making this season's most popular style available at the best value on the web.
SilverTribe has a massive collection of Native American jewelry. This year, turquoise jewelry set in dazzling 925 stamped sterling silver is a highly sought-after item that honors the traditional jewelry designs of the Southwest while embracing every artist's creative vision and flair for fashion. The retailer also has a full inventory of rings, pendants and bracelets available for those looking to get a jump on their summer fashion necessities.
"Being the online leader in American Indian jewelry allows us to offer our entire collection authentic Native American jewelry at unheard of prices," SilverTribe's spokesperson said. "As a way of saying thanks to our loyal customers and welcoming the new ones, we're offering an extra 10 percent off to those who sign up for our email list. Simply sign up and claim your coupon code."
SilverTribe will be updating the summer collection throughout the season to ensure the most popular styles of Native American jewelry will be readily available to customers looking to jump on the latest trend in fashion jewelry.
To browse the growing selection of Southwest jewelry, visit http://www.silvertribe.com.