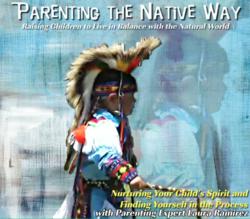 Raising children with ideas from the Native culture helps bring up kids who are innovators, not imitators—kids who will actualize their full potential as adults.
Reno, NV (PRWEB) July 17, 2012
Imagine the kind of world we would live in if children were raised to express their strengths and bring them to the table as adults. In addition to making meaningful lives for themselves, they would help create a better world. This has been the vision of indie author, Laura Ramirez and her award-winning book, "Keepers of the Children: Native American Wisdom and Parenting." Now, Ramirez has launched an Indigogo campaign and is seeking supporters to help her create Parenting the Native Way, a 2-DVD series which she hopes to get into the hands of parents around the world.
Ramirez (who is married to a Pascua Yaqui Native American Indian man) has raised her two children with ideas from the American Indian culture. According to her, "These ideas lend themselves to raising kids in a way that is nurturing, humane and encourages the expression of their true genius. By using ideas like stewardship, good medicine, the Vision Quest and giving children spirit names, parents will raise children who are innovators, not imitators—kids who grow into adults who will make lasting contributions to society and actualize their full potential, fulfilling their destiny here on Earth."
From now until September 30, 2012, supporters who donate to the Parenting the Native Way project will receive a variety of perks. Perks include things like online access to an excerpt of the DVD program, a copy of the 2-DVD series (at the wholesale price) and being listed as a "Friend of Native American People" on a letter that accompanies each DVD-series among other things. (People can also contribute just to offer support.) In addition, those who contribute will also be supporting Native American people in the U.S. (and Aboriginal people in Canada) since if the funding goal of $8000 is met, 10 copies of the DVD series will be mailed to the most impoverished tribes in the U.S. and Canada.
All proceeds from the campaign will be used to pay for videoing, editing, designing, producing and marketing Parenting the Native Way: Raising Children to Live in Balance with the Natural World. Make a contribution to help support, create and distribute Parenting the Native Way.
Author Laura Ramirez is available for interviews and has a variety of interview questions/show topics readily available. She often answers parenting questions on her parenting message boards.