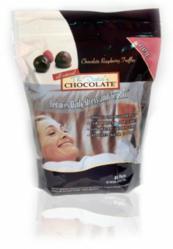 Healthy dark chocolate that is formulated as an appetite suppressant is now offered in new smaller package for convenience from all natural health and wellness company, True Healthy Products.
(PRWEB) February 18, 2012
Popular dark chocolate treat, "The Doctor's Chocolate" is now available in a smaller bag for convenience, from natural wellness products company, True Healthy Products. The new smaller package is free for a limited time when purchased with one of the company's diet programs that is currently also at a discounted price.
The limited time offer can be viewed on the company's website http://www.truehealthyproducts.com/limited-time-offer-special
The Doctor's Chocolate has been carried for years by True Healthy Products, and is typically marketed in conjunction with the company's different diet plans as an appetite suppressant. It has been formulated with a natural sweetener called xylitol instead of sugar, so is safe for diabetics and others to consume without causing blood sugar levels to dramatically elevate. The product additionally contains a natural ingredient that calms people down and relieves tension, in addition to providing appetite suppression.
More information about this all natural dark chocolate can be found here: http://www.truehealthyproducts.com/products/dietary/the-doctors-chocolate
The new smaller bag of product contains 35 individually wrapped pieces instead of the classic bag, which contains 65 individually wrapped pieces. The new, smaller bag will soon be featured with many of the company's other healthy products as bundled sales.
"The Doctor's Chocolate is a healthy treat full of antioxidants and aids in appetite suppression with the benefit of a gentle calming effect," says May, actual user of the Doctor's Chocolate.
About True Healthy Products
Since 2007, True Healthy Products has been a seller of all natural vitamins, supplements and fitness nutrition and as a free source of information for those that want to educate themselves about the benefits of optimizing health through positive changes in lifestyle. Since that time, the company has expanded their product line to include all natural skin care and preventative health remedy products. Visit the company online at http://www.truehealthyproducts.com.
Contact:
True Healthy Products
2460 N. Courtenay Pkwy, 210
Merritt Island, FL 32953
888-400-2920
###