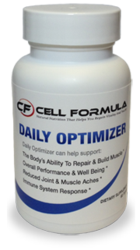 A free report is now available regarding boosting low testosterone levels with natural DHEA supplements from True Healthy Products.
(PRWEB) April 16, 2012
A free report on naturally boosting low testosterone in men over 30 through supplementation is now available from health and wellness products provider, True Healthy Products, based out of Merritt Island, Florida. The new product called, "Cell Formula Daily Optimizer" contains an all natural DHEA component that is able to boost testosterone levels.
The free report is available on the company's website: http://www.cellformula.com
True Healthy Products recently introduced the Cell Formula Daily Optimizer as part of the new Cell Formula product line for naturally obtaining a healthier body and enhancing physical performance. The line is geared towards men over the age of 30 who start to experience signs of diminishing testosterone levels such as:

Low Energy
Reduction in Muscle Mass
Low Sex Drive
Unwanted Weight Gain
Lack of Well Being
"I have tested these products on myself and on several clients of mine ranging from 80 down to 30 years old. After using and testing the Cell Formula products, across the board everyone experienced improved sleep, better energy and changes in body composition. These types of results in my opinion are monumental," says Dr. S. Gregory PHD, ND.
The Cell Formula Daily Optimizer's DHEA component is a hormone agonist which means it can detect hormone levels in the body then convert to testosterone in men. With the increase of testosterone, according to the formulator natural DHEA supplements will help increase energy, power at the gym, sex drive, and the ability to properly absorb foods can be detected.
The free report from True Healthy Products outlines this data along with the full scientific breakdown of each of the synergistically operating components of this formula. Visit the company's website for more information on Cell Formula Supplementation and natural DHEA supplements http://www.cellformula.com.
True Healthy Products, LLC
2460 N. Courtenay Parkway, Unit Number 210
Merritt Island, FL 32953
888-400-2920