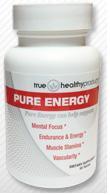 Natural energy supplement gives good caffeine effects without the jitters is now available free with purchase from health and fitness company.
(PRWEB) January 28, 2012
All natural health and fitness supplement company, True Healthy Products is offering a free bottle of, "Pure Energy" with purchase of its complimentary product, the "Daily Optimizer" for a limited time. The supplement is part of a fitness based supplement line that the company formulated specifically to be high performance, but all natural. Pure Energy was manufactured to be used by athletes of all kinds, according to the company's website.
http://www.truehealthyproducts.com/products/sports-nutrition/nitraplex
"Pure Energy is by far the best energy supplement I have ever taken. Now that I am a retired three time super bowl winner I still stay active and like to run marathons and stay busy. Since I have been using Pure Energy my runs have been easier my energy has been more consistent and no jitters or crashing like taking other energy products. Pure Energy is my secret weapon." -Roger Craig, three time super bowl champion.
"Pure Energy" is a Nitric Oxide supplement that will help men and women:
Increase Mental Focus
Increase Energy and Endurance
Increase Muscle Stamina and Vascularity Through an Increase In Blood Flow and Nutrient Uptake
According to Professional Figure Model Natalie Waples, "Pure Energy is very simple to use and it provides me with great energy when I need it and no side effects like others I have tried. In fact I use all the products: their whole food multivitamin, Daily Optimizer and natural protein shakes. They are natural and my body works well with them."
True Healthy Products is offering the Pure Energy Special for a limited time only. To learn more about Pure Energy and supplements that have been formulated by the company to complement it depending on different fitness goals, please visit their website http://www.truehealthyproducts.com/products/sports-nutrition/nitraplex.
True Healthy Products is an all natural nutrition company dedicated to offering the best customer service and quality products that range from healthy dark chocolate, weight loss programs, all natural sports nutrition products, natural skin care and whole food vitamin supplements. Visit their company website to see other products that they offer here http://www.truehealthyproducts.com.
True Healthy Products
Toll Free: 888-400-2920
2460 N Courtenay Parkway, #210
Merritt Island, FL 32953
USA
###