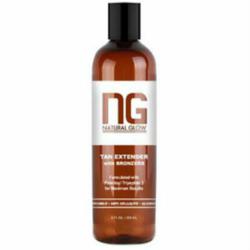 Sunless tanning continues to grow in popularity as a safe and fast way to achieve a beautiful skin tone
Austin, TX (PRWEB) November 20, 2012
As more and more people begin again to enter sunless tanning salons or obtain their own spray tan machines around the country with the fall season here, education on extending sunless tans becomes important. There are many over-the-counter and speciality products on the market that are available to help individuals keep the beautiful toning of an expert spray tanning session longer. But which product will do the best job?
"Sunless tanning continues to grow in popularity as a safe and fast way to achieve a beautiful skin tone," expounds Natasha Renee of Natural Glow Sunless Tanning Products. "Keeping that tan longer is a concern that many may have and there are some good ways and some not so good ways to go about it."
The most important factor, according to Natural Glow, is that any spray tanning extender product should not contain alcohol and which many do. Unfortunately, alcohol dries out the skin which causes dead skin to flake off. This in turn creates patches of faded skin which make a sunless tan look uneven and defeats any effort to extend the tan. Such products need to be avoided.
Natural Glow also recommends that any sunless tanning extender contain a high quality moisturizer which nourishes the skin and keeps it supple.
NATURAL GLOW SPRAY TAN EXTENDER:
There are two products in Natural Glow's product line for extending a sunless tan, one without bronzer and one with. The bronzer version contains DHA, the active ingredient in sunless tans. DHA is a naturally-occurring substance commonly derived from sugar cane that bronzes skin by interacting with dead skin cells. Because it works at a surface level, DHA does not get absorbed into the bloodstream. It's important to remember that the Food and Drug Administration (FDA) has approved DHA for external use only and when used properly, DHA is safe for almost everyone including people who have sensitive skin or asthma.
Both Natural Glow products are anti-aging products. They contain anti-aging peptides to help eliminate fine lines, wrinkles and cellulite by repairing damaged collagen. Other anti-aging products on the market are generally too harsh to be used with spray tans because they also cause the skin to dry-out and exfoliate. These Natural Glow products, however, will enhance the appearance and feel of the skin by making it feel firmer and look healthier and glowing.
"Use of proper tan extenders will add from two to four days to the effective length of a spray tan," informs Natasha. "We, of course, recommend our Natural Glow products as we have specially formulated them using PETA-certified ingredients and organic DHA. They are the best."
For more information on Natural Glow and its sunless spray tanning products and spray tanning machines, ask your local sunless tanning salon or visit the Natural Glow website.
###
About Natural Glow
Natural Glow is run by dedicated professionals who've been in the business for over 18 years and who understand tanning like no one else. The Natural Glow product line features a wide variety of sunless tanning solutions to accommodate any skin type and are certified cruelty-free and vegan by PETA—People for the Ethical Treatment of Animals. They provide a range of sunless tanning equipment as well as comprehensive one-on-one training for certification for sunless tanning salon staff.