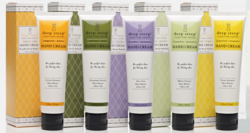 Our brands are an expression of the level of quality we have been able to attain in our formulations. We use them, our kids use them, and our grandkids use them.
Johns Island, South Carolina (PRWEB) July 19, 2012
Created with today's eco chic woman-on-the-go, the new natural hand creams by Deep Steep combine form, function, and peace of mind for cuticles, knuckles and elbows alike.
"The Deep Steep customer is a skin care purist. And quite frankly, they can't get half way through the list of ingredients in their moisturizer before running across a word they can't even pronounce. Fortunately, we've got their backs" Says Dee Heffernan, CMO, and daughter of formulators Paul and Peggy Lieber.
Made entirely without the use of chemical preservatives, FD&C colors, Propylene Glycol, PEGS, Triethonolomine (TEA), DEA, parabens, or phthalates, among other widely used harmful ingredients, Deep Steep products such as their natural hand creams are made to a higher standard than most.
"Our rules are simple. If the functional goal of a product is to moisturize, then our aim is to reach that goal without compromising the integrity of ingredients or the experience of enjoyment," explains CEO and Head Chemist, Paul Lieber.
Deep Steep's natural hand creams feature the brand's five signature aromatic blends, hand-crafted using the highest quality botanicals and essential oils.
Highlights of Deep Steep's luxury natural hand creams:
Formulated using 100% Natural ingredients
Feature Shea Butter and Olive oil for quick, even absorption that won't leave hands tacky or greasy
Aloe Vera to soothe irritated, cracked, or damaged skin
Vegan
Made in the USA
Certified by the Cruelty-Free Bunny
To purchase Deep Steep's natural hand creams or any of their complete line of Bath & Body Care products, or to learn more about our company, please visit http://www.deepsteep.com
About Deep Steep
Deep Steep's vision involves two concepts: Luxury and Integrity. The company promises a retreat from the ordinary and a refreshing level of quality. They promise to provide personal care products that feel good, smell good, and simply are good. Originally founded by earth-conscious entrepreneurs in 2002, Deep Steep is dedicated to producing all natural luxury bath & body care products such as natural hand creams that benefit both the consumer and the planet. Today Deep Steep is operated by leading natural personal care manufacturer, Royal Labs Natural Cosmetics, Inc.