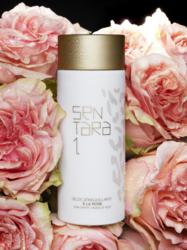 It comes as no surprise that natural skin care brand Sentara has quickly developed a devoted following among France's most alluring leading ladies.
San Francisco, CA (PRWEB) December 19, 2012
Newly introduced in the US on aylabeauty.com, Sentara is a line of natural skin care products created by celebrity makeup artist and organic products enthusiast Mayia Alleaume. Using her beauty experience and expertise, Mayia worked with one of the top laboratories in France to develop a range of organic formulas that truly deliver results without using harsh chemicals. It comes as no surprise that Sentara has quickly developed a devoted following among France's most alluring leading ladies.
While tending to the faces of the likes of Charlotte Gainsbourg, Marion Cotillard and Melanie Laurent, Mayia realized that many of her high-profile clients needed natural skin care products that were free of toxins, but that actually worked. Using her knowledge of aromatherapy and organic ingredients, she began offering advice to these beautiful women on how to repair, protect and rejuvenate their skin using natural plant extracts. After 12 years of hands-on experience working with clients of all ages and skin types, Maiya decided that it was time for a "next-generation" line of organic skin care that took results to a new level.
With the assistance of her aromatherapist sister and the top organic skincare lab in France, Maiya created Sentara - a line based on the pure extracts of naturally produced ingredients. These rich organic concentrates are then blended together using the very latest high-performance technology. Sentara products are all dermatologist tested and their effectiveness has been scientifically proven.
Dara Kennedy, founder of aylabeauty.com — an e-commerce site offering the best natural skin care products on the market — was immediately drawn to Sentara's dedication to purity and efficacy, combined with eco-chic packaging. She partnered with Maiya to bring Sentara to US consumers, and aylabeauty.com now offers the full range of the brand's products, including the cult-status Rose Gel Makeup Remover.
Sentara wholeheartedly respects the environment. The Ecocert-approved products meet a strict code of environmental ethics; in addition, each stage of production is thoroughly inspected and controlled to ensure that the production process is non-polluting. Sentara's stylish packaging is 100% recyclable; the artwork and labels have been printed on recycled paper using a vegetable-based ink.
For more information about Sentara, visit aylabeauty.com.
About Ayla
Ayla is an online beauty retailer that offers consumers personal guidance for skin care that works. To ensure its customers get healthy, great-looking skin from the inside out, Ayla combines the best natural, organic, and "nasty-ingredient-free" products with customized recommendations and holistic, expert skin care advice. Since 2011, aylabeauty.com has built a loyal following for its highly personalized and convenient experience. Ayla is a privately held company with headquarters in San Francisco, CA. For more information, visit aylabeauty.com.