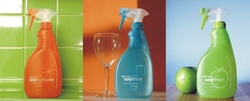 Decatur, IL (PRWEB) November 30, 2010
SoyWorld USA Inc., the company behind the SoyMagic brand of soy-based all-natural cleansers is releasing independent laboratory results—providing evidence that its patented formula for processing soy, the key ingredient in all its products, can reduce bacteria levels by as much as 99.99%.
This puts SoyMagic in a truly elite category of disinfecting cleansers developed from soy—a 100% all natural active ingredient in a formula so effective it can whisk dirt and stains away without scrubbing, yet so gentle that it actually nourishes the skin during cleaning.
While natural cleansers are gaining popularity from skin care to household cleaning products, few of these cleansers can actually state "antibacterial" being among its benefits. Soy is a powerful natural cleaning agent that also conditions the skin with natural emollients, so taking the gloves off while cleaning is encouraged. Conventional chemical cleansers and heavy detergents get the job done but have harmful effects; and while natural cleansers are gentler alternatives, they often fall short on providing the expected sanitation. SoyMagic's patented nanotechnology process produces safe, eco‐friendly cleansers that are up to 99.99% effective against bacteria, and softens hands—in one.
The CEO of SoyWorld, Veronica Lee, explains SoyMagic's unique formulation: "Through the nano processing of the soybean, we are able to increase the density of soy particles onto a single surface 1000's of times more than with traditional extracts. SoyMagic cleansers contain real soy beans in nano particle form; these are not just extracts or soy oils like other soy products."
The SoyMagic tests results will be particularly meaningful to environmental and health conscious consumers; or to those who suffer from dry, sensitive skin, or allergic skin conditions. SoyMagic all-natural cleansers are at last the complete solution for skin, home and health care that reward consumers with an eco-friendly product containing natural antibacterial cleaning power—and that is also a beauty treat for the skin:

Fights bacteria such as E-coli and Salmonella common on household surfaces, dishes, and produce
High concentration of soy nanoparticles moves briskly but gently— effectively "scrubbing" surfaces clean to save on cleaning time
Low-suds formula rinses off quickly to save water and protect waterways
Inherent emollients provide excellent natural moisture and are ideal for even the most sensitive skin types
To view the test results of SoyMagic's unique benefits as a natural antibacterial cleaning ingredient, visit http://www.soymagic.com for more details. The entire line of SoyMagic beauty products and household cleansers are also available for purchase online and through local authorized resellers. The SoyMagic all-natural antibacterial line includes SoyMagic Skincare, SoyShine Dish Detergent, SoyFresh Fruit and Vegetable Wash, SoyComplete All-Purpose Household Cleanser; and SoyGolf, the best golf club cleaning choice on the market. To learn more, please visit http://www.soymagic.com.
About SoyMagic
Since 2004, SoyWorld USA Inc. has been dedicated to the development of environmentally safe cleansers for beauty, home and health. All SoyMagic products are made with pure soy in a patented process allowing it to extract all of the soybeans' powerful properties.
The founder of SoyWorld, USA is an esteemed dermatologist who has treated patients for over 30 years. Dr. Frank Lee is a Diplomate of the American Board of Dermatology and the American Boards of Dermatology and Pathology in Dermatopathology.
###