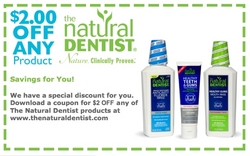 (PRWEB) October 31, 2008
Meet The Natural Dentist - great tasting toothpastes and rinses that are better for your health, the environment and now your budget too! Shoppers can experience The Natural Dentist products, made with natural ingredients that are effective at washing away plaque and soothing gums, at an even lower price with a $2 off instant coupon at http://www.thenaturaldentist.com/.
The Natural Dentist:

Natural mouth rinses and toothpastes clinically proven effective, without alcohol, dye, harsh chemicals and detergents or artificial ingredients.
Proven effective in inhibiting the growth of oral bacteria in research published in the Journal of the American Dental Association.
The Natural Dentist is "Nature. Clinically Proven."
Recommended by dentists and dental hygienists, and leading dental specialists including periodontists, oral surgeons and cosmetic dentists.
Available in leading drugstores, grocery and mass retail locations nationwide.
Natural oral care solutions for the entire family:
o Only natural ingredients-- herbal extracts and natural flavors, sweeteners and colors
o No Alcohol
o No SLS (detergent in toothpaste that can cause mouth irritation)
o The Natural Dentist Anticavity Fluoride Rinse has the ADA Seal for cavity prevention
o Green packaging-- soy ink, recyclable bottles and toothpaste sold without a box to reduce packaging waste
o PETA certified cruelty-free
o Manufactured in the USA
The Natural Dentist line of toothpastes and rinses has been featured in Oprah Magazine, Esquire, iVillage.com, other leading health and beauty publications and professional dental journals.
###