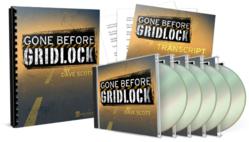 When getting out of a populated area becomes mandatory, the Absolute Rights article said having a thought-out evacuation plan is crucial.
Austin, TX (PRWEB) October 05, 2012
Natural disaster evacuation is a serious matter in this day and age, according to the most recent article from AbsoluteRights.com. Despite a city's best efforts, it's a difficult and heavily-weighted decision to make. If citizens know the best actions to take and when to take them, the article said that it can be the difference between escaping danger and getting stuck behind everyone else when an evacuation becomes a necessity.
Now that Absolute Rights has released their breakthrough evacuation program, "Gone Before Gridlock," people are learning the truth behind evacuation issues and finding out how to avoid the crowded masses. The article said hundreds of thousands of panicked evacuees will hit the streets at the same time, which can make for a difficult, if not impossible, way out.
Anything from a major hurricane to a flash flood warning can cause evacuation requirements, but the article called Mother Nature an unpredictable force. Recent evacuations mandated by Gulf Coast cities and states before Hurricane Isaac arrived demonstrated the importance of decision makers when people's lives are in danger.
The raw truth is that natural disasters are just the beginning of the occurrences that could require evacuations, according to the online piece. "Gone Before Gridlock" helps people understand all the different situations, and contains valuable information for the unprepared, said the article. It also gives seasoned preppers the ability to apply the measures to their own plans, and improve them in the process.
The members-exclusive website that stores the "Gone Before Gridlock" program features five modules of expertly-developed training, along with additional bonus material. A fuel calculator, route map software, and advanced details on how to avoid choke points all add to the overall benefit of the "Gone Before Gridlock" system, said the article.
Absolute Rights informs patriotic Americans on their given rights, plus helps protect those rights from government or disaster intrusion. Most importantly, it prides itself on alerting people when their rights are being threatened, creating an active and informed community. For more information, be sure to visit AbsoluteRights.com.
When getting out of a populated area becomes mandatory, the Absolute Rights article said having a thought-out evacuation plan is crucial. Not only does it award the chance to get out of harm's way safe and quickly, but it also gives people peace of mind knowing they're prepared. The article advised wising up to the natural disaster evacuation measures needed for a successful plan, because it is one of the best ways to reach that level of preparedness.