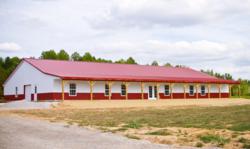 Goat Milk Stuff can now operate at higher production levels.
Charlestown, IN (PRWEB) September 30, 2012
Goat Milk Stuff announced it opened a new soap production facility seven times larger than the previous production room that served the company, online at http://www.GoatMilkStuff.com, as demand more than doubled annually in the past few years.
The new 7,000-square-foot building is located on the Jonas family's new 36-acre farm. PJ, Jim and their 8 children, ages 5 to 15, are planning to move from their current nearly 3-acre Indiana farm, as soon as the house and goat barn are ready.
PJ Jonas, mom and founder of Goat Milk Stuff, said, "With our retail business growing dramatically we can now expand to select wholesale customers as well. We are happy to share our success and have begun to hire and hope to gradually expand our workforce."
Jim Jonas, dad and Chief Soap Maker, said, "The new soap facility enables us to sharply increase output and distribution. We can now operate at higher production levels and more fully build inventories for peak selling periods."
The Jonas family makes all of the products marketed by Goat Milk Stuff, ranging from scented and unscented soaps, lotions, and lip balms to bath bombs, laundry soap, soy candles and other chemical-free natural products.
PJ said, "What began by making soap from our goats' milk so my children would not have to use commercial chemical-laden soaps, has grown tremendously. We are now a company marketing to 50 states and globally, and we have increased the size of our Alpine goat herd more than tenfold."
Fox Business reported Goat Milk Stuff's success at http://video.foxbusiness.com/v/1672867610001/.
Oprah Magazine also showcased Goat Milk Stuff, additionally posting the article online at http://tinyurl.com/7xxnkeg.
PJ is a former engineer and Jim is a former teacher who together homeschool their children. "In addition to their studies, each of our home-schooled children learns about business by contributing in age-appropriate ways to the family success," said Jim.
Online at GoatMilkStuff.com, the Charlestown, Indiana company and makes and markets all-natural Goat Milk Stuff™ products including goat milk soaps, lip balms, lotions, bath bombs, laundry soap, soy candles and more. For media contact Brian Dobson at DobsonPR.com or BD (at) dobsonpr.com.