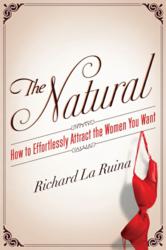 San Francisco, CA (PRWEB) February 07, 2012
Richard La Ruina used to be paralyzed by fear, shyness and insecurity; a man without the first idea of how to speak to a woman. "I was a total failure, and until I was 21, I'd never gone on a single date, much less kissed a girl."
Finally, at age 25, La Ruina ultimately transformed himself into a man who knows how to get the girl every time. Richard founded PUA (Pick Up Artist) Training in 2007 and has committed his life's work to helping other men discover the secrets to becoming a natural with women. In his first book, THE NATURAL: How to Effortlessly Attract the Women You Want(HarperOne; February 2012; Hardcover; $23.99) Richard shares his journey and the techniques that changed his life forever. His promise: any man, at any age, can go from zero to hero, from geek to natural.
THE NATURAL answers everything from:

the traits that make a man attractive to women (and why)
how to work a room
overcoming anxiety
starting a conversation with a beautiful woman
mastering eye contact and body language and ultimately, "the close."
Regardless of looks or salary, Richard's methods allow men to become more confident and socially competent, men who get women with grace and ease. Whether they're looking to play the field or find that one special woman, THE NATURAL is a path to success.
About the Author:
Richard La Ruina is an internationally renowned relationship expert and coach. He founded PUATraining.com in 2007 and teaches bootcamps and weekend seminars around the world for men just like his former self.
THE NATURAL How to Effortlessly Attract the Women You Want
By Richard La Ruina
On-sale: February 7, 2012 / $23.99 Hardcover / ISBN: 9780062089786
*Also Available As an EBOOK
###