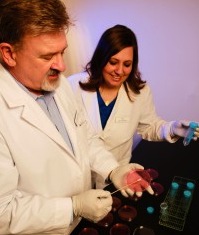 With daily use of Natural Rosacea Treatment creams I have no evidence of rosacea...
Blaine, WA (PRWEB) August 15, 2012
The breakthrough secret ingredient for natural rosacea treatment comes from the ocean. Dr. Kelly, an expert in the discovery of naturally occurring marine antibiotic and anti-inflammatory agents, began a search of his extensive collection of natural marine extracts. After years of research he isolated the active extracts that were effective against his own rosacea. Dr. Kelly then combined these naturally occurring marine extracts into skin creams that form the basis of a treatment system to successfully control rosacea symptoms and revitalize rosacea-damaged skin.
Dr. Kelly, a prominent marine/medical microbiologist, discovered the breakthrough natural treatment for rosacea while on a personal quest to find a topical treatment for his own rosacea. Initially effective in clearing his rosacea outbreaks Dr. Kelly had to discontinue use of oral tetracycline antibiotic because of severe allergic reactions. Topical antibiotics eventually became ineffective. His rosacea returned despite continued use of these treatments.
"There is no known cure for rosacea, but the Natural Rosacea Treatment system does successfully control the symptoms as long as the skin creams are used. With daily use of Natural Rosacea Treatment creams I have no evidence of rosacea, and I don't need to ingest potent antibiotics," commented Dr. Kelly.
Dr. Kelly's Natural Rosacea Treatment Program consists of two skin creams, Protective Concealing Cream and Moisturizing Renewal Lotion, that both contain the active marine extracts to control the redness and blemishes of rosacea. Moisturizing Renewal Lotion is designed for use before bed to hydrate and revitalize the skin during sleep. Protective Concealing Cream is designed for use during the day to protect the skin and conceal the redness of rosacea. Both creams used together promote long-term healing of rosacea damaged skin and lead to freedom from rosacea.
About Dr. Kelly& Natural Rosacea Treatment
Dr. Michael Kelly is a physician in full-time practice. His specialty is Medical Microbiology (the diagnosis, treatment, and control of infectious diseases). He is Medical Director of a large pathology laboratory and also practices in a hospital setting. He is a Clinical Professor of Pathology in Vancouver, BC. Dr. Kelly is not only a physician with an MD degree, but he is also a marine scientist with a PhD degree marine microbiology. His research has been recognized by the publication of more than 100 articles in medical and scientific journals. He also holds multiple patents and trademarks on his discoveries.