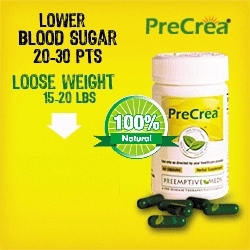 Besides efficacy, standardized quality and safety, the affordability of our brands, is what makes us so popular with physicians and patients alike
Whitehouse Station, NJ (PRWEB) October 13, 2009
Diabetes and Obesity are the biggest epidemics of our time affecting overall healthcare cost and quality. Before people have full-blown Diabetes, they most commonly have a "pre" condition called "PreDiabetes" and this is defined by the American Diabetes Association as Fasting Sugar levels between 99-126 or HBA1c levels between 5.5 to6.5 After over three years of promoting its products to thousands of Primary Care Physicians in the US and tens and thousands of successful clinical experiences, PreEmptive Meds Inc., (PMI), the premier Preventative Medicine Company is announcing the expansion of sales of its all PreCrea® brand for Pre-Diabetes via http://www.predisease.com, a one-stop-shop online resource for educating consumers on options for early intervention and prevention. Physicians have been using PMI's plant-based formulations as alternatives to prescription drugs and also as first line treatments for early disease (predisease) states to preempt the onset of full blown disease.
The Company stands behind its products with a 100% money back guarantee. In three months if Fasting Blood Sugar levels do not drop by a minimum of 20 points and HbA1c levels by at least 0.5 points, the consumer can get their money entire money back. PreCrea® is a combination of eight proven herbs extracted in a proprietary formulation, which addresses the two principal patho-physiologies of Diabetes, viz., Insulin-Resistance and Beta Cell Failure in the Pancreas. Because of its unique properties, most people also lose weight (12-15 lbs) in 4-6 months. The weight loss is gradual and sustainable in clinical studies. For the first time doctors and patients alike have an opportunity to intervene early and stop the progress of diabetes with an effective and safe all-natural option, which is easy to take and completely risk-free.
"We are the fastest growing Integrative Medicine Company, with tens and thousands of satisfied customers. We have, for the first time, truly integrated the best evidence-based natural ingredients from the various traditional systems from China, India, Japan and the Americas in combinations made available in twice-daily capsules. Its nature and science working together," stated Joe Fenn, MD, Founder and President of PMI.
The Company offers four combinations of all natural therapeutics for only $10 per week. "Besides efficacy, standardized quality and safety, the affordability of our brands, is what makes us so popular with physicians and patients alike" sates Dr. Fenn. The Company's brands include PreLipid®, a Natural Treatment for Cholesterol and for reducing inflammation in arteries; PreCrea® - a Natural Treatment for Pre-Diabetes and for moderate weight loss; PreMenora® - balances hormones and relieves menopause symptoms naturally and PreArthos® - a Natural treatment for Joint Pain and Inflammation.
"We believe pre-disease is a significant area of medicine where prescription drugs play little, if any, role and where PMI's proprietary products can make an important therapeutic contribution. Thanks to nature and science, in our small way, we are making prevention possible and affordable," added Dr. Fenn.
About PreEmptive Meds, Inc.
Founded in 2006 by seasoned pharmaceutical executives and a world-class Medical Board, PMI is the premier therapeutic company that offers proprietary, branded, clinically proven, 100% Natural formulations as effective alternatives to prescriptions.
# # #