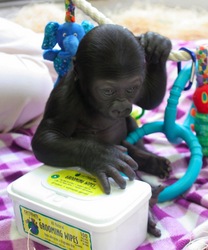 We are very proud that the San Francisco Zoo chose to use our wipes in the care of this very rare gorilla
San Francisco, CA (PRWEB) August 21, 2009
Excitement filled the San Francisco Zoo in December 2008 with the birth of an endangered male baby western lowland gorilla, the first such birth at the zoo in over a decade. Excitement was soon replaced by concern as it became apparent that first-time mother, Monifa, had no interest in caring for the baby. It would now be necessary for zoo vets and keepers to tend to the baby while another female gorilla from the troop could be given behavioral training to become a surrogate mother.
Caring for a gorilla infant is much the same as raising a newborn human child. It's a 24/7 job with a long list of tasks that include keeping the baby gorilla clean. Because the gorilla's skin can be even more sensitive than a human's, keepers chose earthbath's All Natural Hypoallergenic Fragrance Free Grooming Wipes to handle this chore. These moist wipes use natural cleansers and conditioners that were perfect for the young gorilla's coat and skin. Because of this success earthbath's All Natural Grooming Wipes have become the official wipes for the San Francisco Zoo, its vets and animal keepers.
"We are very proud that the San Francisco Zoo chose to use our wipes in the care of this very rare gorilla," says Paul Armstrong, CEO and founder of earthbath. "This is great testimony to the research and consideration that we put into the formulation and manufacture of all our products. If it is safe to use on an animal as precious as a lowland gorilla, then you can be assured it will be just as safe for pet owners to use on their best friends."
The baby gorilla is doing quite well and the zoo recently held a contest to give him a name. He is now known as "Hasani," Swahili for handsome, and keepers are making slow but sure progress in his integration back into the zoo's gorilla troop. For the latest updates on Hasani's progress please visit San Francisco Zoo website.
The same wipes that are used by the zookeepers can be purchased by pet owners in two different formulas. Hasani's favorite, the Hypoallergenic and Fragrance Free Grooming Wipes, are designed for pets that need a good cleansing, but suffer from sensitive skin or allergies. Its mild cleansers work to freshen and deodorize while natural conditioners leave coats soft and shiny.
The second formula, Green Tea Leaf Fragrance Grooming Wipes, are heavenly scented with the natural extract of the green tea leaf, a beneficial anti-oxidant. Both earthbath Grooming Wipes are paraben, lanolin and alcohol free, and contain aloe vera, Hawaiian awapuhi extract and vitamin E to moisturize and condition coats and skin. These wipes will not remove topical flea control products.
About the Company
Founded by Paul Armstrong in 1995, Earthwhile Endeavors, Inc. is a pioneer in natural pet grooming. The original line of three shampoos and one conditioner was developed and sold locally in San Francisco, CA. Over the past 14 years, the earthbath product line has grown organically to include Totally Natural Shampoo, Totally Natural Grooming Wipes, Totally Natural Deodorizing Spritz and Totally Natural Grooming Foam used by conscientious animal lovers around the world. earthbath products are natural, non-toxic, paraben free, biodegradable, and made in the USA with human grade ingredients.
# # #