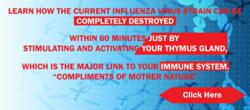 People have to know the only thing they can rely on is their immune system
SHELBY, Mont. (PRWEB) January 18, 2013
The influenza virus is crippling cities left and right. In Boston, a public health emergency was declared, and in other parts of the United States hospitals have been turning back patients because emergency rooms can't handle the influx patients. There have been 100s of deaths related to the flu already.
This strand of flu is certainly powerful and crippling, but there are natural ways, beyond medicine and shots, to prevent and care for this virus.
Patricia Hellinger, recognized holistic self-help advocate and author of "Hiatal Hernia & Chronic Fatigue Syndrome – And Many other Diseases Healed Naturally," says stimulating and activating the thymus gland can improve your immune system, which will be able to fight off virus' more effectively and even prevent virus'.
"The best thing you can do is keep stimulating and activating your thymus gland to keep it from shrinking," said Hellinger, who invented the thymus gland holistic noninvasive self-help procedure 16-years ago. "It plays a crucial role as a major link to your immune system."
The Thymus Gland is a major reason why T-cells develop and learn their process. T-cells, or T lymphocytes, play a vital role in assisting other white blood cells in fighting off virus' and diseases. As humans grow older, the Thymus Gland shrinks and eventually is replaced by fat. Hellinger has found through research by stimulating the gland through the chest can activate the gland and increase your chance of fighting off the virus or illness naturally, using your own immune system.
"People have to know the only thing they can rely on is their immune system," she said.
There are many benefits when using self-help procedures to help thwart virus: it's free, it doesn't have a life threating response, no allergic reactions, there's no injections or needles, and it's available 24-7.
Patricia Hellinger is offering self-help seminars on using self-help procedures for safe and effective treatment regarding: Influenza, Thyroid issues, Kidney disease, Hiatal Hernia and much more. During the seminars, or by reading her book
About Patricia Hellinger and http://www.quasarhealing.com: Patricia Hellinger is a recognized self-help advocate who is educating thousands of people on the principles and merits of holistic self-help rather than putting it in the hands of doctors, who are influenced by major drug companies. Her seminars were broadcast throughout Montana and her book, "Hiatal Hernia and Chronic Fatigue Syndrome," is published by QuaSar Publishing and distributed by Quick Pick Distribution. For more information, visit http://www.quasarhealing.com.