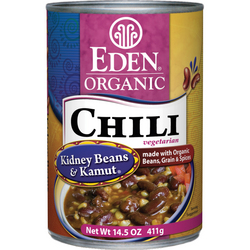 We are incredibly proud that Eden Foods chose to use KAMUT® khorasan wheat in its new chili product
Missoula, MT (Vocus) September 17, 2009
KAMUT® khorasan wheat is one of the lead ingredients in natural foods leader Eden Foods' new organic meatless " Kidney Bean & Kamut Chili," according to Missoula, MT-based Kamut International. The Clinton, MI-based company chose to use the whole grain due to its "impressive nutritional value, hunger satisfaction properties, and delicious taste," according to Wendy Esko, Eden Foods Marketing Assistant, noting that the company will be formally introducing and sampling the chilli from its booth (1657) at the upcoming Natural Products Expo East September 23-26, 2009, in Boston, MA. In addition, she noted the company appreciated the fact that grain comes with a solid supply chain. KAMUT® khorasan wheat may only be grown organically.
Eden also offers seven organic 100 percent whole grain pastas made with KAMUT® khorasan wheat, including EDEN Organic Kamut & Buckwheat Rigatoni, Kamut Ditalini, Kamut Elbows, Kamut Spaghetti, Kamut Spirals, Kamut Vegetable Spirals and Kamut & Quinoa Twisted Pair as well as EDEN Organic Kamut Flakes.
"We are incredibly proud that Eden Foods chose to use KAMUT® khorasan wheat in its new chili product," said Trevor Blyth, CEO of Kamut International which also is exhibiting at the Natural Products Expo East (booth 2025). "Our farmers work hard to grow this delicious and nutritious grain and Eden Foods is helping ensure that consumers across the U.S. will get to enjoy it."
In addition, Kamut International founder Bob Quinn was highlighted as an "Organic Entrepreneur" in Organic Products Retailer's September, 2009, issue. The organization will be exhibiting at the Canadian Health Food Association Expo East (booth 318) October 3-4, in Toronto, Canada.
41,900 acres of KAMUT® khorasan wheat were in production in 2008 - an 18 percent increase from the 35,300 acres of the grain in 2007. 37,000 acres were grown in Alberta and Saskatchewan, Canada, 4,100 in Montana, and, for the first time, 800 acres in Australia. Approximately 2000 products are made worldwide using the ancient grain. Twenty seven percent of all sales of the grain are in the U.S. and Canada while seventy three percent go to Europe.
KAMUT® khorasan wheat-containing products in 2009 include biscotti, bulgur, and artisan breads, numerous varieties of cereals and pasta, as well as coffee, milk, ice cream, and beer! These products are sold in 40 countries.
"KAMUT®" (KÙ-mooe) is a registered trademark used to market organically grown khorasan wheat, an ancient relative of modern durum wheat. In the ancient Egyptian language "Kamut" means wheat. KAMUT® khorasan wheat has a sweet taste, is twice the size of durum wheat, and has higher nutritional value. Specifically, it has more protein and is higher in vitamins (vitamins B1, B2 and E, and niacin) and minerals (iron, magnesium, phosphorus, selenium and zinc). Because of the soil in which it is grown, KAMUT® khorasan wheat provides 100 percent of the daily recommended intake for selenium in 2 to 3 servings.
###