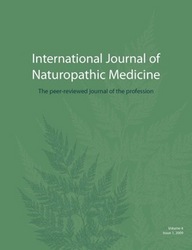 This journal represents a source of information based on peer-reviewed research. People can read an article from it and count on it as being solid and reliable
Scottsdale, AZ (PRWEB) June 2, 2009
Practitioners of natural medicine attained a new voice June 1 with the launch of the International Journal of Naturopathic Medicine (IntJNM). IntJNM is meant to provide doctors with a high-quality peer-reviewed journal to further the evidence base of the profession that is dedicated to disease prevention, treatment, and health promotion using natural therapies solutions. The first printed issue was mailed to over 5000 doctors in the United States, Canada, Great Britain, Australia, Israel and New Zealand.
The online multinational peer-reviewed International Journal of Naturopathic Medicine (IntJNM) was acquired by the publishers of the monthly natural medicine industry paper Naturopathic Doctor News & Review (NDNR) to develop a printed and online version of IntJNM to better serve as a benchmark to the rest of the international medical community and to facilitate communication among physicians. Peer-reviewed journals like the IntJNM are vital for disseminating credible scientifically-based information, as physician members of the editorial board scrutinize each article before publishing. The IntJNM is formatted for indexing within the National Institutes of Health's (NIH) PubMed database (pubmed.gov).
The 32-member IntJNM editorial board consists of the past and current presidents of the national associations, college faculty chairpersons, university research department heads, and leaders in the naturopathic profession. Dugald Seely, ND, MSc, the new Editor-in-Chief states that he is keen to work with the editorial board members towards building the evidence base of the profession and to foster rigorous research in the area of natural medicine and to promote natural therapies. "This journal represents a source of information based on peer-reviewed research. People can read an article from it and count on it as being solid and reliable," writes previous Editor-in-Chief Jonathan E. Prousky, BSc, MSc, ND and Chief Naturopathic Medical Officer at the Canadian College of Naturopathic Medicine.
"The new IntJNM has been restructured to improve communication with the allied health professions. The launch of the printed journal is a milestone for the evolution of natural medicine, now a multi-billion dollar industry needing peer-reviewed physician-level literature," writes publisher of NDNR and IntJNM, David Tallman, DC, ND.
The IntJNM features original research, reviews, case reports, and editorials encompassing the natural medical field. The IntJNM also serves to publish medical research conducted at medical colleges world wide including the six accredited post graduate naturopathic medical universities in the US and Canada.
To learn about natural medicine, natural therapies and International Journal of Naturopathic Medicine, visit the Web site at http://intjnm.org.
###