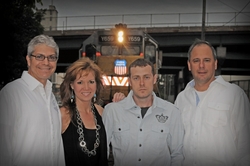 This is certainly one case where we want what happens in Vegas, not to stay in Vegas.
Norway, IA (Vocus) April 30, 2010
While it's not exactly the same as American Idol, for the Iowa band Aeroroot, it's a shot at the top. Fortune magazine and the Rock and Roll Hall of Fame and Museum just announced that Aeroroot is one of the 16 semi-finalists for the Tenth Annual Battle of the Corporate Bands.
Formed at Frontier Natural Products Co-op five years ago, the band will be traveling to the Western Regional competition held at the Hard Rock Hotel & Casino in Las Vegas, on Saturday, May 22. Other regional competitors include corporate bands from companies such as Deloitte Consulting, Chesapeake Energy, and Northwestern Mutual.
"This is certainly one case where we want what happens in Vegas, not to stay in Vegas," says Clint Landis, lead vocalist and Chief Marketing Officer for Frontier. "Our goal is to reach the final competition at the Rock and Roll Hall of Fame and Museum in Cleveland, Ohio, in October."
Aeroroot submitted its CD entry to the contest in March and a panel of judges from the Rock and Roll Hall of Fame and Museum selected the 16 semi-finalists bands. Last year, which was Aeroroot's debut at the competition, the band made the semifinals and went on to compete at the finals. "Now that we know what to expect, nerves shouldn't be as much of an issue for us this time," asserts Brett Karminski, lead guitarist and brand manager.
"We formed Aeroroot during a lunch break in Frontier's on-site organic café," explains Steve Krusie, drummer and public relations director. "Our intent was only to provide entertainment for the upcoming holiday party. But Frontier employees encouraged us to stay together. Since then, we've been playing primarily at fundraisers, including the American Cancer Society, Juvenile Diabetes Research Foundation, Flood Them with Love and many others."
Rounding out the quartet of rockers is Tracy Tunwall, formerly Frontier's VP of Human Resources and currently assistant professor at Mt. Mercy College. Playing bass guitar for Aeroroot, Tracy keeps the groove going while Brett, Clint and Steve are constantly trying to one-up each other with stage-presence shenanigans. "It's not easy, but somebody has to be focused on the music," jokes Tunwall.
The band's name comes from the herb arrowroot, one of the natural products Frontier produces. The spelling was changed as a nod to Rock and Roll Hall of Fame band Aerosmith. Aeroroot will perform five songs during their 20 minutes in front of the judges. Meanwhile, the band is practicing in the Landis' garage to prepare for the Las Vegas semi-finals.
For more information, visit http://www.aerorootband.com .
Note to news editors: To arrange an interview with any of the band members, contact Steve Krusie at (319) 227-7996.
Frontier Natural Products Co-op™
Founded in 1976 and based in Norway, Iowa, Frontier Natural Products Co-op™ offers a full line of natural and organic products under the Frontier, Simply Organic®, Aura Cacia® and Aura Cacia Organics® brands. Products include culinary herbs, spices and baking flavors; bulk herbs and spices; and natural and organic aromatherapy products. Frontier's goal is to provide consumers with the highest-quality organic and natural products while supporting and promoting environmental and social responsibility. For more information, visit Frontier's website at http://www.frontiercoop.com .
###