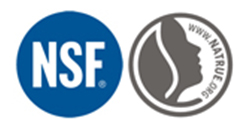 The new American national standard will define the use of the term 'natural' and will protect the integrity of verified natural personal care products.
Ann Arbor, MI and Brussels, Belgium (Vocus/PRWEB) February 10, 2011
Personal care in the United States will finally have a new standard for "natural" personal care products, and consumers will have a new label they can trust in the marketplace. NSF International, a U.S. testing and certification organization committed to protecting the environment and public health, and NATRUE, The International Natural and Organic Cosmetic Association, have partnered to develop the first American national standard for natural personal care products.
The new American national standard will define the use of the term 'natural' and will protect the integrity of verified natural personal care products. NATRUE's natural personal care criteria (NATRUE Standard Level 1) will be used as a foundation for the development of an American version, which will help establish a globally recognized definition of 'natural' in personal care products, including cosmetics, oral care and personal hygiene products.
A recent survey of eco-friendly buying habits found that many consumers are skeptical of the term 'natural' on product packaging, with 65 percent saying that they would like to see the term "certified" for both processes and ingredients. This finding identifies an unmet need for personal care manufacturers until today's new natural personal care standard announcement.
"In the absence of a standard definition, consumers often question the term 'natural' on personal care products as to what it actually means," said NSF International Standards Director Jane Wilson. "By collaborating with NATRUE, consumer groups, industry experts and regulators, the American national standard for natural personal care products will define, in line with NATRUE's Label approach, the use of the term "natural" helping to protect and promote authentic and quality natural personal care products worldwide."
NSF International will develop the new natural personal care standard utilizing an consensus-based process that allows for balanced participation from key stakeholder groups, including regulators, personal care manufacturers, trade associations, product retailers and other stakeholders from the natural personal care products community.
NSF International encourages all industry and regulatory experts to participate in the standards development process. The first stakeholder meeting to discuss the development of the new standard for natural personal care products will be held Thursday, March 10 at the Natural Products Expo West trade show in Anaheim, Calif. Parties interested in helping to develop the standard can contact NSF Standards Manager Lorna Badman at badman(at)nsf(dot)org or 734-827-6806 for more information.
This is the second U.S. national standard that NSF International plans to develop for the personal care industry, according to Wilson.
"A year ago, the NSF/ANSI 305 standard was introduced for manufacturers seeking to have their personal care products certified as containing organic ingredients. Developing a standard for natural personal care products will help delineate the two sectors for consumers and bring meaning to the term "natural," explained Wilson.
NSF International and NATRUE have signed a memorandum of understanding aimed at harmonizing NSF/ANSI 305 and NATRUE Level 2 (for which an equivalency agreement was signed last year), and are working together to help define "natural" to help eliminate confusion consumers may have regarding natural personal care products.
Editor's note: NSF Standards Director Jane Wilson is available to discuss the development of this new standard in more detail. To arrange an interview, please contact Greta Houlahan at 734-913-5723 or houlahan(at)nsf(dot)org.
About NATRUE:
NATRUE is the International Natural and Organic Cosmetics Association based in Brussels and promotes authentic natural and organic cosmetics worldwide since May 2008. The NATRUE label sets a high standard of quality and integrity so people worldwide may enjoy natural cosmetics truly worthy of that name. More than 1,300 products have already been certified under the NATRUE label, ranging from skin care to make-up and the certification of raw materials was also recently launched. Discover NATRUE products worldwide at http://www.NATRUE.org/products. For more information please contact info(at)NATRUE(dot)eu.
About NSF International:
NSF International, an independent organization, certifies products and writes standards for food, water and consumer goods to minimize adverse health effects and protect the environment (http://www.nsf.org). Founded in 1944, NSF is committed to protecting human health and safety worldwide and operates in more than 120 countries. NSF is a World Health Organization Collaborating Centre for Food and Water Safety and Indoor Environment.
Accredited by the American National Standards Institute (ANSI), NSF has developed more than 70 American national standards using this consensus-based process, including NSF/ANSI Standard 305: Personal Care Products Containing Organic Ingredients. Additional services include NSF Training and Education, safety audits for the food and water industries, dietary and nutritional supplement certification, management systems registrations (e.g. ISO 14001) delivered through NSF International Strategic Registrations and sustainable business services through NSF Sustainability.
# # #