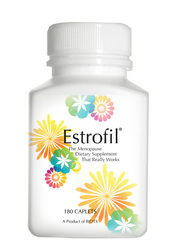 Seattle, WA (Vocus) July 14, 2010
Natural remedies for women experiencing hot flashes and other uncomfortable menopausal symptoms have gained in popularity in recent years compared to the alternatives of estrogen and hormone replacement. The following five natural remedies for women provide hot flash and menopausal relief without the risks associated with hormone replacement therapy for women:
Dress appropriately: Wear loose, layered clothing that can be removed as needed. A newer eco-friendly material preferred over cotton is bamboo. It is naturally thermal regulating, keeps the wearer two to three degrees cooler in the heat, wicks away moisture and has double the absorbency of cotton. Cotton clothes may leave a woman feeling soggy, so also look for high performance, moisture-wicking fabrics worn by athletes designed to lift water away and evaporate it quickly.
Try natural menopause supplements: Look for a safe plant-based menopause dietary supplement. One natural menopause supplement called Estrofil – http://www.estrofil.com – relies on a combination of herbs that has been safely used in Traditional Chinese Medicine for centuries. Estrofil does not contain estrogen and therefore can be taken without the risks associated with hormone replacement therapy for women. Unlike Black Cohosh, which doesn't work for all women and has been surrounded by controversy, Wild Yam, which has an active phytoestrogen, and Soy, which can cause weight gain in menopausal women and suppress thyroid function – only Estrofil's ingredients have been proven to be safe after hundreds of years of use. Estrofil is also unique because its ingredients – a combination of roots, fruit, seeds and rhizomes - safely encourage a woman's endocrine system (the body's own internal system of checks and balances) to naturally regulate proper hormone levels. This is what distinguishes Estrofil from other natural menopause remedies.
Exercise: Multiple scientific studies have shown exercise can eliminate hot flashes and their overall severity – while also reducing depression. As an added benefit, research shows that weight bearing exercise will maintain bone density in menopausal women. Physical activity for one hour three or more times per week – whether walking with a friend, swimming, dancing or bicycling – can greatly ease menopausal symptoms and hot flashes. Alternative therapies such as deep breathing exercises, yoga, meditation and acupuncture have also had favorable results.
Make good nutrition a top priority – do not skip meals: Maintaining a balanced diet may seem simplistic, but taking the time to eat three well-balanced meals a day, including servings of grains and complex carbohydrates, healthy low-fat proteins, multiple fruits and vegetables while limiting fats, will not only reduce hot flashes and menopausal symptoms but will improve overall health and stabilize weight. Flaxseed, which has been shown in scientific studies to help reduce hot flashes, is inexpensive, tastes good, and is easy to incorporate into almost any recipe. Common foods that make hot flashes and menopause symptoms worse include alcohol, caffeine, spicy foods and sugary foods. Hormonal changes experienced during menopause can also cause dehydration, which leads to dry skin, irritability and a host of other menopause symptoms – therefore drink eight glasses of cool water daily.
Get adequate sleep: Many women experience insomnia during menopause. However, simple steps such as avoiding afternoon naps, keeping the bedroom cool and dark, setting a regular time to go to bed and wake up, and going to bed before 10 p.m. will help. Avoid steaming hot showers before bed and use bamboo sheets and loose bamboo night clothes, which allow the skin to breathe. Do not exercise within three hours of bedtime and avoid large meals before bed. Try to follow a daily sleep routine even on the weekends and only use the bed for sleep and sex – move the TV into another room.
Visit http://www.estrofil.com for more information on menopause, hot flashes and natural menopause supplements.
###