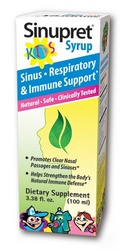 One non-drug option that I recommend for healthy sinus, respiratory and immune support is Sinupret for Kids syrup, a natural product that is new to the U.S. market but has been used in Europe by physicians for almost 75 years for adults and 30 years for children
SAN CLEMENTE, Calif. (PRWEB) October 23, 2008
"One non-drug option that I recommend for healthy sinus, respiratory and immune support is Sinupret for Kids syrup, a natural product that is new to the U.S. market but has been used in Europe by physicians for almost 75 years for adults and 30 years for children," stated pediatrician Dr. Bob Sears.
Sinupret promotes healthy drainage in the upper respiratory tract, improves airflow in the nose and supports healthy mucous flow in the nose and sinuses. Additionally, it has also been shown to support the immune system. This natural remedy is being embraced by many retailers who want to ensure that they provide their customers with natural, clinically tested options.
"We're pleased to be able to offer our customers a natural remedy that's been shown to be effective and safe," said Scott Bukow, CEO of Bionorica USA. "The need for natural solutions like Sinupret is evident through the daily addition of new stores carrying the product and the overall increase in sales since our launch. We are rushing to replenish many retailers' inventories, as many have sold out," he added.
Sinupret for Kids is now available at Walmart, Rite Aid, amazon.com, DrugStore.com, Meijer, Fred Meyer, Giant Eagle, Wegmans, Toys 'R Us, A&P, Pathmark, CDMA, Drug Fair, Kerr Drug, Kinney Drug, Bartell, Save Mart, Kinray, Leader pharmacies and Valu-Rite.
The natural remedy is developed through a proprietary blend of European Elder, Sorrel, Cowslip, European Vervain, and Gentian that supports healthy sinus, respiratory and immune function for children 2 and older. Sinupret for Kids does not contain stimulants, caffeine, ephedra, pseudoephedrine, codeine, steroids, narcotics or gluten.
"Unlike many supplements that claim to work, Sinupret has the clinical evidence to back it up," said Dr. Narinder Duggal, MD, renowned internist and pharmacologist, and associate professor at the University of Washington. "Sinupret for Kids has been widely studied and cited as safe and effective in numerous medical journals."
To introduce Sinupret to families, a "World of Wellness" is popping up at select Disney On Ice locations, creating an environment that celebrates well-being, social consciousness, creativity and health, at 150 performances across the country. Before show time, families interact with Sinupret ambassadors to learn about the healthful power of plants, receive gifts and learn about the newly introduced Sinupret remedy, just in time for the winter months. The display can be seen at Disney On Ice presents Mickey & Minnie's Magical Journey and Disney On Ice presents A Disneyland Adventure. Visit http://www.disneyonice.com for show times and locations.
About Bionorica
Bionorica, maker of Sinupret, is one of the world's leading makers of clinically proven healthy products, and number one in Germany, that established a unique principle, "phytolution," identifying and researching the best in nature and using the most innovative technology to create effective and safe remedies. Bionorica is registered in over 35 countries as a phytopharmaceutical product. From April 2007 – April 2008, over 7.5 million units of Sinupret were purchased in Germany alone, with over a half a million units purchased for kids under 12. For more information visit http://www.sinupretforkids.com.
Note to editors: B-ROLL AVAILABLE…
-- Interviews available: -- Dr. Bob Sears, M.D., F.A.A.P. (pediatrician) -- Dr. Narinder Duggal, M.D., PhD (pharmacologist and internist) -- Dr. Marcus Laux, N.D. (naturopathic physician) -- Dr. Michael Popp, CEO of Bionorica, AG -- Scott Bukow, CEO, Bionorica USA -- Product artwork and samples available upon request