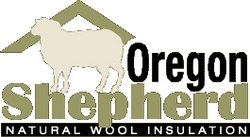 "Thanks to USDA, we now have additional resources to educate consumers, homeowners and small business owners about the unique benefits that natural sheep wool insulation can provide. This is a very exciting time for our company" - Bob Workman
Clatskanie, OR (PRWEB) July 13, 2010
Oregon Shepherd, a premier producer of natural sheep wool insulation is proud to announce that it has received a business development grant from the United States Department of Agriculture (USDA) to expand the marketing capacity of the organization.
"As homeowners and businesses alike look towards alternative ways to tap into our country's renewable resources, sheep wool has increasingly become the insulation of choice for many", says Bob Workman, General Manager of this Portland based company. "We have developed a unique process to use sheep wool as an extremely efficient and effective insulation material", continued Workman.
According to the company, wool insulation in your floors, walls, and ceiling spaces, can literally "inhale" the moisture and contaminates, briefly store them, then release them to the outside atmosphere as the outdoor temperature and humidity change. This system of passive air exchange works in your home year round, with no cost to operate.
In addition to the superior insulation properties, Oregon Shepherd's loose fill insulation products result in zero VOC emissions, both during their manufacture and in use. They provide superior breathability, improve indoor air quality, and are non-allergenic. As a result, they are completely safe to handle and install without the need for protective equipment typically used during traditional fiberglass insulation.
"Thanks to USDA, we now have additional resources to educate consumers, homeowners and small business owners about the unique benefits that natural sheep wool insulation can provide. This is a very exciting time for our company and we are ramping up our production capabilities for what we believe will unprecedented growth", said Workman
About Oregon Shepherd, LLC
Oregon Shepherd, LLC was formed in 2003 by Joel Pynch and Margaret Magruder with the specific goal of expanding traditional markets for natural wool products. Several years later they invested in plant and equipment to manufacture wool insulation for the US market. To learn more about natural wool insulation contact Bob Workman at 888-629-Wool or go to http://www.OregonShepherd.com.
###