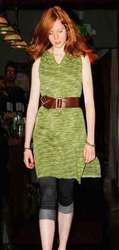 Snohomish, WA (PRWEB) February 1, 2010
How we can live sustainably, minimize our impact on the environment but still have fun and look great? An eco-friendly community gathered at Grilla Bites in Snohomish, WA has some practical ideas.
On January 16, 2010 Natural Clothing Company, invited by local Grilla Bites Cafe, presented a selection of beautiful organic clothing, made with all natural fibers. Featured were versatile hemp dresses, sweaters and pants, naturally dyed scarves and hats, organic cotton blouses and skirts as well as bamboo clothing with a popular line of reversible tops and cropped pants. Even a hat made from recycled grocery bags got well deserved round of applause. Gracious models streaming down the runway were a local artist, a Historic Downtown Snohomish representative and local students. Annie, the host and owner of organic Grilla Bites Cafe, was also wearing eco-friendly, fair trade organic clothing from Natural Clothing Company.
The owners of the company, Alina and Bob Bartell, spoke about the benefits of growing organic crops for textiles. Organic clothing is made and grown without pesticides or chemicals, comparing it for example to conventional cotton, which uses 24% of the world's insecticides. Organic clothing is very safe for people with skin sensitivities because of lack of harsh chemicals in their production.
Live demonstration of reusing plastic grocery bags by Karen Erickson followed next. Then local thrift store Cinderella Closet's young models fashioned delightful reused clothes that would not break any budget. At the end was presentation of Cody's sewing skills learned from his grandmother. Cody created a line of aprons using recycled men's shirts.
Wonderful live music was played by talented musicians from Tim Noah Thumbnail Theater of Snohomish while guests tasted organic food by Grilla Bites Cafe and sampled wine from local wineries. Aside from the delightful evening, it was a birth of ideas on how to stay focused on helping environment, have fun and create next green gathering on larger scale. After all - every day is an Earth Day on this planet! See more photos from the show at Natural Clothing Company site and join us on Facebook.
About Us
Natural Clothing Company is a retailer of organic and natural fibers clothing for the whole family. Located in Snohomish Washington they are focused on helping people find natural and great looking organic clothing. As the family owned business they practice organic gardening, composting and strive to be "zero waste" family as their personal goal. For more information visit http://www.NaturalClothingCompany.com or email info(at)NaturalClothingCompany(dot)com. Media contact Alina 877-800-8878. You can become our fan on Facebook (http://tinyurl.com/NaturalClothing ).
Grilla Bites Cafe is an organic food restaurant in historic downtown Snohomish. It offers variety of delicious organic food choices, including non-gluten and vegan options. Grilla Bites participates in recycling and composting programs, uses local suppliers and is a pick up location for a local Community Supported Agriculture (CSA) program. Visit http://grillabitessnohomish.blogspot.com/ .
###