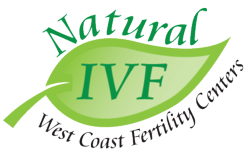 Natural IVF is an exciting and affordable NEW fertility treatment offered at West Coast Fertility Centers to patients who have mild forms of infertility.
Orange County, California (PRWEB) November 28, 2012
An exciting new development that mimics a natural pregnancy is now available at West Coast Fertility Centers. It enhances the way nature selects the best egg for ovulation in a natural cycle. Let's examine a Natural Cycle IVF compared to a natural spontaneous pregnancy.
WHAT IS "NATURAL IVF" AND HOW DOES IT WORK?
"Natural IVF" (NIVF) can be offered to patients with mild forms of infertility but still need help becoming pregnant. NIVF mimics the natural process by helping the woman's ovaries produce the natural healthy egg she would produce in her own cycle.
Usually one, but occasionally two eggs are released in natural cycles. With NIVF, the ovaries are assisted to develop the naturally selected one or two follicles and eggs. The follicles are aspirated under I.V. sedation and the harvested eggs are replaced to the uterus 3 days later. Some women may take progesterone capsules to help support the uterine lining. A pregnancy is confirmed two weeks after the transfer.
HOW DOES A NATURAL PREGNANCY OCCUR?
When a woman becomes pregnant naturally in a spontaneous cycle, her ovaries release just one or two mature eggs which then pass into the fallopian tubes where the male's sperm reaches the egg and fertilizes it. If all goes well in this natural environment, the fertilized egg is nourished to become an embryo while still gliding through the fallopian tube for about five days. Upon arrival into the internal chamber of the uterus, the embryo begins the implantation process.
During this phase, the embryo releases chemical signals which are received by the uterine wall, indicating it is ready to attach. The uterine tissue, in turn, also produces chemical signaling to the embryo. This is called uterine receptivity and indicates that all is ready for the embryo to nest itself in the uterine wall. During the next few days, the attachment process continues and the new interface between embryo and uterus, called the implantation site, begins producing the pregnancy hormone known as human chorionic gonadotropin (hCG), resulting in a positive pregnancy test. If pregnancy continues normally, the embryo grows and the rate of hCG production increases rapidly. Ultrasound confirms the growing gestational sac about 4 weeks after implantation occurs.
WHO IS A CANDIDATE FOR NATURAL IVF?
Dr. David Diaz has developed specific guidelines which must be met before recommending NIVF:
1. Body Weight: A normal body weight is encouraged. A person who is overweight may not ovulate regularly or she may have hormone imbalances that interfere with the ovulatory process. WCFC recommends weight management before undergoing NIVF.
2. Patient Age: Every patient has a different fertility potential. It is easy to imagine that patients in their early 30's have good ovarian function. On the other hand, some patients over 38, who tried traditional IVF, may respond favorably to NIVF using the body's finely tuned mechanism of recruitment and selection of the most favorable follicle containing the best egg cell during that particular cycle. The egg is harvested, inseminated and transferred to the uterus. It is assumed that the natural selection will favor the development of the most efficient egg and embryo during the NIVF cycle. In cases of advanced maternal age, WCFC may advise stockpiling 3 or 4 embryos and transferring them to enhance the likelihood of pregnancy
3. Hormonal Studies: FSH less than 9miu/ml; Estradiol less than 60pg/ml. However, even patients with a single aberrant lab test may ultimately achieve pregnancy, but WCFC cannot predict exactly when this might occur.
4. Regular Menstruation Every 28-32 Days: This pattern of regular cycles suggests normal hormonal signaling between ovaries and the pituitary gland and indicates a favorable environment for an egg to be harvested.
5. Male Testing: Sperm count >20 million/ml; Motility > 40%; Strict criteria morphology >4%.
6. Absence of any medical condition that would place a patient at high risk for pregnancy.
WHAT ARE THE ADVANTAGES OF NATURAL IVF?
-Affordability: The cost is $3,900 which doesn't include fees for testing and medication. Medication cost is low because only a minimal of amount is used to encourage growth of the naturally selected one or two eggs.
-Less Monitoring: Fewer ultrasound studies and fewer blood tests are needed because only one or two follicles are expected to develop.
-Less Anesthesia: Only pain tablets are needed for the egg harvest because just one or two follicles are harvested in about 10 minutes. I.V. sedation is available upon request.
-Less Chance of Multiple Births: Only one or two embryos are transferred.
Candidates for Natural IVF will meet with Dr. David Diaz to check vital signs with complete medical history, physical examination, and treatment formulation plan. Appointment requests can be made by calling 714-513-1399.
David G. Diaz, MD, FACOG is the Medical Director of West Coast Fertility Centers located in Fountain Valley and Fullerton in Orange County, California. Founded in 1988, WCFC is now among the most established and successful fertility centers in the nation.