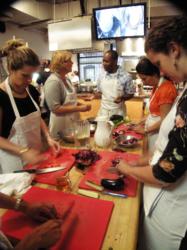 New York, NY (PRWEB) November 18, 2011
This year holiday shoppers can give a present that will truly be savored -- a gift certificate to The Natural Gourmet Institute (NGI), Manhattan's foremost culinary school devoted to preparation of natural, whole foods. With a wide range of classes, dinners, and products, there is something for everyone on the list!
Educational, Enlightening and Epicurean Public Classes
NGI's public classes offer excellent learning opportunities to the general public, providing an ever-expanding array of approaches to health-supportive cooking, which includes global and regional gourmet cuisine, knife skills, cooking techniques and specialty classes such as gluten-free baking, macrobiotics, raw foods, cooking with kids, Ayurveda and more.
Just a few of the courses available at NGI this winter include:
Creative Pasta-Making for Teens (Ages 12-15)
This interactive class is for pasta-loving teens and tweens. Delicious pasta starts with well-made dough and they'll create theirs from scratch (by hand) and with a pasta machine. Chef Instructor Stefania Patinella will show them how to vary the flavors and textures of their pasta by using different flours, then they'll roll out your dough, shape it, stuff some, and prepare traditional sauces to complement their creations. Here's what they'll make and enjoy: Squash-Stuffed Ravioli with Butter-Sage Sauce • Fettuccine with Basil-Almond Pesto • Agnolotti with Spinach and Ricotta in Classic Tomato Sauce • Baby Spinach, Pear and Walnut Salad with Balsamic Vinaigrette. (Organic eggs and optional dairy will be used.)
Monday, January 16, 12:00 pm - 3:30 pm
Fee: $90.00
A Chinese New Year Hot Pot Dinner
Chinese New Year, celebrated on January 23, 2012, rings in the Year of the Dragon! The Natural Gourmet Institue invites students to celebrate this auspicious event as millions will the world over, with an authentic Asian Hot Pot. Chef Instructor Jay Weinstein, whose travels in the Chinese-speaking world ignited his passion for this seasonal banquet, will briefly recount its history and lore; then the class will prepare their own handmade tofu and seitan, vegetarian dumplings, mushroom-seitan "wheatballs," and an endless assortment of fresh vegetables, silky mushrooms, lotus root, sea vegetables, long beans, and other treats to simmer as they dine. Mixing and matching, they'll submerge each delicious bite in their choice of vegan or egg broth until perfectly cooked, and then dip them into their choice of exquisite sauces. The grand finale of a Hot Pot meal is the broth itself, imbued with the flavors of our cooking and augmented with bean thread noodles and edible chrysanthemum leaves. (Vegan; optional organic eggs will be used.)
Friday, January 20, 6:00 pm - 9:30 pm
Fee: $110.00
Cook 1 Day, Eat for 5
A demanding schedule really can accommodate homemade meals! Students will learn to cook up Chef Instructor Jay Weinstein's delectable dinners on one weekend day and so they can sit down to a great meal Monday through Friday. Reheating takes just 20 minutes. They'll get guidance in every step, from stocking staples to time management and how to freeze and store. They'll cook in teams, one vegetarian and one non-vegetarian. Butternut Squash and Tuscan Bean Stew with Collard Greens and optional Chicken • New England Chowder with Celery, Potatoes, Barley, and optional Fish • Italian Crepes with Root Vegetable and Ricotta Filling • Cassoulet of Roasted Vegetables with Cannellini Beans, Herbed Breadcrumbs, and optional Lamb • Crisp Beet Risotto Cakes on Warm Endive and Watercress Salad with optional Goat Cheese. (Organic eggs and dairy will be used, with optional fish, organic chicken, and pastured lamb. Wine will be served.)
Thursday, January 26, 6:30 pm - 10:00 pm
Fee: $115.00
Gifts Galore
In addition to classes, gift certificates can also be used at the NGI store.
Have a cookbook lover on the holiday shopping list? He or she can choose from a wide array of inspirational reading choices. A full line of All-Clad Metalcrafters cookware, including MASTER-CHEF™, LTD, COP-R-CHEF™ and MAGNA CORE, plus Duromatic pressure cookers and Le Creuset grills are also available.
A Unique Dining Experience- NGI's Friday Night Dinners
Friday Night Dinners are a great option for savvy New Yorkers and visitors alike who are looking for an innovative, healthy and yes, reasonably-priced meal. Every Friday night, the busy kitchens and classrooms at NGI are transformed into candlelit dining rooms where guests are served at communal tables. The delicious and beautifully presented 3-course vegetarian menu, which changes weekly, incorporates fresh, seasonal and mostly organic produce. The dinner is the culminating project for NGI's Chef Training Program students who plan the whole menu from start to finish. Many of NGI's graduates later work at some of the nation's 5-star restaurants. Seating begins at 6:30pm for the $40 prix fixe meal (tax and tip included) and it's BYOB. Gift certificates are available for any denomination, so buy dinner for two or for ten!
The Ultimate Dream Gift – The Chance to Train as a Chef!
Have a friend or a loved one who has always dreamed of being a chef? Help them join the ranks of other prominent NGI grads, including Tal Ronnen, private chef to Oprah Winfrey and author of The Conscious Cook; Amanda Cohen, owner of NYC's Dirt Candy restaurant and recent Food Network "Iron Chef" challenger; and Alex Jamieson, author of "Veganism for Dummies." A gift certificate towards tuition for NGI's Chef's Training Program (CTP) will set them on their way. This mostly plant-based program provides the same basic skills training as its more mainstream counterparts, but takes it one step further. In addition to preparing its graduates for careers in 5-star restaurants, bakeries, catering businesses and other entrepreneurial pursuits, it is also dedicated to graduating chefs who are committed to using local, sustainable, organic, seasonal (when possible), fresh whole foods with an emphasis on traditional unrefined ingredients. Students learn not only to prepare delicious food, but how to use it as a tool for health and healing.
To purchase a Natural Gourmet Institute gift certificate, call 212-645-5170 (ext. 4). For more information about NGI's Chef Training Program, Public Classes and Friday Night Dinners, visit http://www.naturalgourmetinstitute.com.
###