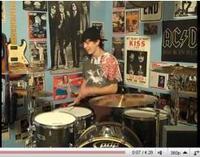 teens with a natural high are asked to share it, not only for a chance to win, but to help other teens see the truth.
La Jolla, CA (PRWEB) March 4, 2010
So you're surfing through YouTube one day when all of a sudden, you stumble across a video of a teenage boy rocking out on his drum set. "Just another teen trying to make it big" you say to yourself, but as you become memorized by the trance of his impeccable beat, you notice this kid not only has talent, but his video has something different. Mixed within his drumming are pop ups with all sorts of statistics on drug use. Eventually his friend joins him and it switches to a guitar and vocalist duo. At the end of the video both teens proudly state, "Music and video games are how we choose to get high".
These two teens recently entered the 2010 Natural High Video PSA Contest. Their video, "our natural high. a public service announcement" has a shot at winning $100-$300. Created by Naturalhigh.org and hosted on YouTube, the 2010 Natural High Video PSA Contest is a chance for teens to share what they love to do instead of drugs and alcohol.
"I don't use drugs or alcohol because biking gets me naturally high," says Cody Johnson, Winner of the 2009 PSA Contest, from Canyon Crest Academy in San Diego. "For me mountain biking has kept me away from drugs and alcohol because being in a middle school where drugs are very prevalent, it gave me a chance to escape. It's not only healthy for me and my mom encouraged it, but it just made me feel good. Drugs and alcohol just slow you down."
The Natural High PSA Contest runs January 1st - May 1st 2010, leaving teens plenty of time to plan and shoot a 1-5 minute film. To qualify, students must be between the ages of 13-18 years old and answer the 3 questions found on http://www.naturalhigh.org/psa.html related to their natural high. Soundzabound is also offering participating teachers free access to their royalty free music library for use in student's PSA contest videos only.
"The goal is to have hundreds of teens producing similar videos to take a stand for living naturally high," says Kelly Rogers, Manager of Marketing and Communication at Natural High. "We want these videos to encourage teens who want to make the right choice, but feel alone in their decision to live drug free, due to what they see on television and in their local communities. The truth is, according to the 2009 Monitoring the Future survey, the vast majority of teens in the U.S. aren't using drugs, and actually disapprove of it. We want that reality to be reflected and shared, and what better way then peer-to-peer communication and YouTube's audience of millions."
Natural High, Producers and Distributors of the highly acclaimed Natural High ® DVD Series, will sponsor and judge the contest. Their latest film, Natural High 4, released in September 2009, has already been seen by over 2 million kids and according to a recent survey, 77% of students said the film encouraged them to find a natural high and reject drugs and alcohol.
The Natural High® DVDs and PSA Contest are designed to support the social norms approach of promoting healthy choices. The social norms theory states that most people's behavior is influenced by their perception of how other members of their social group behave. If people think harmful behavior is typical, they are more likely to engage in that type of behavior themselves. There are countless examples in everyday life, substance abuse just one of them, as people become sensitized and desensitized as choices appear acceptable with more exposure. It's similar to the logic used by corporations to sell soft drinks and tennis shoes; mass branding impressions make individuals more likely to buy.
The problem resides in the fact that one's perception of harmful behavior can often differ severely from reality. For example, 14% of 8th graders reported using drugs in 2009, yet the majority of young people thought at least 25-50% of teens, if not more, were using drugs across the United States. According to the social norms theory, if the percentage of user perception increases, the more likely teens are to engage in that behavior themselves, in this case, drug use.
Social norms advocates and Natural High believe the key to prevention lies in publicizing messages and statistics showing non-use. Such as, "86% of 8th graders in 2009 reported no past year drug use." Similar to the drug free stars in the Natural High® DVD Series, those teens with an alternative form of happiness, aka a natural high, are asked to share it in the PSA Video Contest, not only for a chance to win, but to help other teens see the truth.
For questions, interviews, or more information please contact Kelly Rogers at 858-551-7006 or kelly(at)naturalhigh(dot)org.
# # #