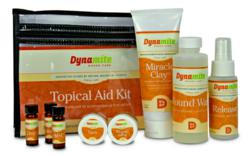 "Summer travel can be as stressful for horses as it is for humans."
Meridian, ID (PRWEB) July 06, 2011
A new all-natural, topical aid kit for horses is proving popular for vacations with horses, says Callie Novak, CEO of Dynamite Specialty Products. It also contains natural remedies that ease the stress of transporting horses.
The Topical Aid Kit from Dynamite contains all-natural remedies and is an excellent adjunct to a traditional first aid kit for horses, as well as their human and canine companions. It has eight different products, including Trace Minerals Concentrate to stop bleeding; Would Balm, an all-natural topical salve for bruises, strains, burns and wounds; and Wound Wash, a proprietary blend of food-grade fatty acids, organic lavender essential oil and other ingredients that clean wounds without stinging.
The first aid kit initially was released several years ago. In the new version Miracle Clay, which relieves pain from insect bites, is premixed and comes in a tube. Other ingredients also have been repackaged for easier use during vacations with horses, Novak said.
Labels and instructions have been redesigned and rewritten to incorporate answers to customer questions, and the container is now a smaller, soft-sided zippered bag.
Summer travel can be as stressful for horses as it is for humans, Novak cautioned. Some simple natural horse remedies can make life easier.
Why the stress? The same reason that travel can be stressful to humans, even when it's for pleasure. There are hours of limited exercise while confined. There are changes in diet and routine. All take their toll on energy levels and mental and physical health.
Horses, more so than humans, may stop eating under stress. Anxiety produces the "fight or flight" reaction in horses, and their digestive systems often shut down as their bodies anticipate the need to either fight back or run away. When horses are confined, they do not get the chance to burn off the adrenaline and bring their bodies back into balance by exercise, thus creating a vicious cycle.
"A good horse prebiotic supports natural gut bacteria and helps keep a horse's digestive system working properly. A daily dose of a horse prebiotic is recommended at all times, and it is even more important during travel," Novak said. Dynamite makes Dyna-Pro horse prebiotic, as well as Dynamite, the signature vitamin and mineral supplement that gave the company its name.
A number of other products useful for summer vacations with horses also are available from Dynamite, which makes natural horse feed and nutritional supplements for horses and most other members of the animal kingdom.
Horses, too, can suffer from summer sun. An application of Dyna Shield, a naturally formulated and chemical-free spray, will provide sun protection, while conditioning the coat and soothing insect bites.
Horses that exercise heavily need an electrolyte boost just as humans do. Dyna Spark will help restore the electrolyte balance in horses that have been exercising on hot, summer days. The supplement is rich in B-complex vitamins, Vitamin C, iron and electrolytes and contains no stimulants or additives. It also supports health in horses suffering anxiety, sickness or injury.
Hiscorbadyne is a nutrient that blends flavonoids, a type of antioxidant, and related compounds. It helps with oxidative stress on cells. It has been linked to many other health benefits, including capillary support, increased circulation, and support for animals with allergies or weakened immune systems. SuperStress contains hiscorbadyne and was developed for horses under the extreme stress of racetracks, surgery or trauma.
Relax, as the name implies, is a homeopathic and flower essence blend that helps horses relax if they are fearful of situations during travel. It is especially useful during Fourth of July fireworks. Spray it into the horse's mouth. It is entirely drug-free.
Tranquil is an all-natural herbal, homeopathic formula that works like a tranquilizer to create a feeling of calmness. It is extremely useful when hauling horses.
A family-owned business that has specialized in animal nutrition for four generations, Dynamite Specialty Products makes products for virtually every member of the animal kingdom. It has long developed food and nutritional supplements for prize-winning racehorses and show dogs across the country. Its specialists in horse nutrition and animal nutrition can recommend exactly what vitamins, minerals and other supplements best support horses with laminitis, dogs with arthritis, cats whose owners make their own food, and cows with digestive issues. Dynamite has worked with veterinarians and university researchers to produce specialty foods to correct nutritional deficiencies in animals ranging from Canadian muskoxen to peregrine falcons to zoo exotics.
Dynamite uses only natural ingredients, made in the United States for better quality control. Throughout its history of making natural horse feed, it has always looked at alternatives to animal by-products, antibiotics, chemical preservatives, fumigants, artificial coloring and other additives that have later caused health problems. Its manufacturing processes are so stringently controlled that Dynamite has a separate mill to produce feed for herbivores, such as horses and poultry that are especially sensitive to contamination from meat needed by other species.
Additional information on natural horse feed and horse vitamin and mineral supplements is available at DynamiteSpecialty.com or by calling (800) 697-7434.
###