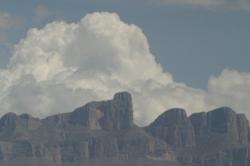 Portal, Arizona (PRWEB) February 29, 2012
Participants in this spring's Naturalist Journeys' annual birding and nature tour to Big Bend National Park in Texas have a new item on their list of what to bring: their passports. While not yet open, it is hoped that by April the first unmanned border crossing in the U.S. Southwest will be open, and century-old ties of friendship across the Rio Grande River can begin again. Naturalist Journeys has offered birding and nature tours in the park for over a decade and some of their guides have conducted tours there for the last twenty-five years. Placing high value the cultural exchange as part of the Big Bend ecotourism experience, they hope to be among the first to return.
Peg Abbott, owner of Naturalist Journeys, has taken tours to the park each year since 1989. She feels that crossings to the tiny towns of Boquillas del Carmen and Santa Elena were not only fun for guests, but they were great for birders, who want to get out early to find rare and colorful species along the river. She says, "It was great; we'd drive down to the river at dawn from our lodgings, bird for several hours, and then cross over to the Falcon family's restaurant in Boquillas. They would make us breakfast tacos and coffee, without having to retrace our steps back to the lodge, a service the village provided along the Rio Grande that the park did not. We'd have fun buying handicrafts before returning and everyone would try to see as many bird species as possible on that side of the river, to start their "Mexico" lists. Over the years our guides got to know some of the townspeople, and it was so nice to look forward to seeing them. We had great hopes of Mexico declaring a sister park to Big Bend, so we could go explore the Sierra del Carmen Mountains. Crossing in a leaky little boat and riding to town for breakfast on a mule was a memorable part of our experience of visiting the park, and we've missed it."
There is no assurance that the crossing will indeed be open by Naturalist Journey's April 20-28 birding and natural history adventure, but the company wants participants to be prepared just in case, and hopes to have its group be one of the first to reunite ties. Ahead of opening, the border crossing's innovative high-tech system for scanning documents must be ready, and construction completed for a small facility within the park where visitors enter or return to the Park from Mexico.
The issue is not without controversy, though Boquillas is a rare situation, being a small town with only rugged dirt roads reaching it from the Mexican side. There are no other communities, other than those of Big Bend National Park, for countless miles. Many feel the crossing will create more security for the park, as Boquillas is now almost an eerie ghost town, and supporters of the project feel it's better to encourage a small bit of commerce and provide an alternative for the town residents to cross legally if they wish to shop at the park's small grocery, something they used to do often as the next legal crossing is some 240 miles away. Abbott reminisces, "The park store prior to 2002 was a living place, where people of two nations drank coffee, got the newspaper, decided on times for soccer or baseball games (so few live here they needed participation from both sides to make two teams…) and bought refrigerated items (Boquillas has no electricity) and fuel. We practiced our Spanish, and some of the guys knew what birds we liked to see; they'd tell us where they had just seen them."
This was the tradition long before the park was established, further up river at Hot Springs, now a historic building in the park but once a thriving resort, store and post office. Big Bend is one of the most remote national parks, and its history is still in the making. Right now park officials have to make a 16-hour round trip over to Presidio for meetings to discuss management of the vital, Wild and Scenic-designated Rio Grande River. The crossing will greatly enhance Big Bend National Park's conservation mission. Naturalist Journeys welcomes the cultural exchange as part of the region's ecotourism appeal, promoting peaceful sustainability for a community on Big Bend's border.
Naturalist Journeys is a nature-travel company based in the Southwest, in Portal Arizona. Those interested in visiting Big Bend, or other natural areas of the U.S. and beyond can contact them for a free brochure or full tour itineraries, which are also posted on their website.