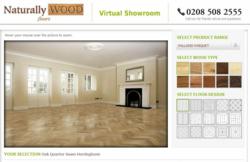 So far the service, which is one of the first of its kind, has been a big hit and we have had some excellent and positive feedback from a range of design professionals who have been using it
London, UK (PRWEB UK) 6 December 2012
All design professionals strive to make the right decisions, but for even the most experienced some choices are subject to trial and error. Wall colours can be changed, wallpapers, fabrics and some fittings too, but for something as large scale and important as flooring, it really does need to be perfect from the word go.
Now, flooring specialist Naturally Wood Floors has launched an invaluable online tool to help with interior design project planning. Via the company's website, designers can access an interactive virtual showroom, giving the user a perfect opportunity to explore and experiment with a variety of different wooden flooring and see how it would look in-situ.
Using a room scene as a template, the user can choose different wood species and product types and then select from one of the many designs available including Herringbone, Basket Weave, Chevron and Breton Cross - or choose a parquet border or motif. By clicking on their choice, the photo image will change instantly to demonstrate how the room would look with that combination of wood type, colour and design.
Richard Coletta, Managing Director of Naturally Wood Floors explains the thinking behind the idea: "A wooden floor can really transform a room, whatever its use, whether a large commercial space or in a home environment. However it can be difficult, when using just samples, to get a true feel of how the finished flooring would appear. We wanted to create a tool that would help people envisage as accurately as possible the finished look – after all wooden flooring is a long-term investment and we want our clients to be happy with their choices."
"Our web developers have helped us to come up with this really innovative solution, and have used state-of-the-art technology to create an interactive virtual showroom that is user friendly and shows a large selection of our range extremely accurately. So far the service, which is one of the first of its kind, has been a big hit and we have had some excellent and positive feedback from a range of design professionals who have been using it."
Once the selection has been made, Naturally Wood Floors works closely with each client, by carrying out a site survey, discussing exact requirements and supervising the process from start to finish.
For more information on the full range of Naturally Wood flooring and finishes contact the team at Naturally Wood Floors on 0208 508 2555 or visit the company's interactive website at http://www.naturallywood.net
Naturally Wood Floors supply, install and restore wood floors in London, Essex, Hertfordshire, Middlesex, Kent, Suffolk and Cambridgeshire