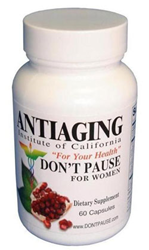 Beverly Hills, CA (PRWEB) July 10, 2015
The ANTIAGING Institute of California is now offering a special promotion on DON'T PAUSE, an all-natural herbal supplement that can help with menopause. For a limited time, people who buy three DON'T PAUSE natural menopause supplements will get one at no charge. Each bottle contains 60 capsules and one to two capsules should be taken daily. This offer allows women to stock up with a four to eight month supply of DON'T PAUSE at a drastically reduced price. With DON'T PAUSE, women can tackle their depression menopause and other symptoms naturally.
DON'T PAUSE is designed to help women address menopause using natural ingredients. This supplement contains a special blend of vitamins and herbs, some of which have been used by women for centuries to alleviate discomfort associated with premenstrual syndrome and menopause. Menopause is a natural process that can bring about many changes in the body, such as menopause weight gain. Other common menopause symptoms include:

Depression
Digestive problems
Food allergies
Irritability
Brain fog
Muscle loss
Bone loss
Menopause mood swings are a normal, natural part of the menopause experience. Luckily, women can conquer their symptoms to live healthier, happier lives with the right lifestyle choices and supplements. "We should remember that aging is not a disease; we can age healthy," stated Dr. Ershadi. Lifestyle changes that include a balanced diet, good sleep hygiene and regular exercise can also be beneficial for a woman in menopause.
The ANTIAGING Institute of California has been providing women with natural solutions to manage bloating menopause, hot flashes and night sweats for more than 15 years. Their goal is to "'promote' a lifestyle that will help prevent, postpone and reverse the signs and symptoms of aging."
About Dr. Shoreh Ershadi
Dr. Shoreh Ershadi developed the supplement DON'T PAUSE to help women better manage their menopause symptoms. She graduated magna cum laude from Tehran University in Iran with a Pharm. D. in Pharmacology. She has continued her studies at the Newcastle University in England, where she completed her Master's Degree and Ph. D. in Clinical Biochemistry. Today, Dr. Ershadi is a member of the American Academy of Anti-Aging Medicine, the American Association for Clinical Chemistry, the American Association of Clinical Pathologists and the American Association for Clinical Toxicologists.