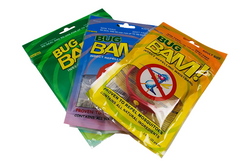 Consumers today have become much more aware of their personal well-being and that of their children than they were 10 years ago
Los Angeles, CA (PRWEB) July 22, 2008
Bug Bam, makers of the leading range of all natural insect repellent products of the same name, announced today it has so far sold over one million units of their popular repelling wristbands and hanging grids during the 2008 season.
The Australian founder and President of Bug Bam Products LLC, Mr. Joseph M. Symond, called this a milestone for the future of natural repellents and just 'the tip of the iceberg' as consumers demand safer, healthier alternatives.
Symond states, "Whilst philanthropists and scientists continue to spend billions in the search for a cure to vector borne diseases such as Malaria, West Nile Virus and Dengue that kill and debilitate millions of humans each year, the rapid success of Bug Bam has proven that prevention is still the best method to control mosquitoes and, ultimately, save lives. Consumers have made it clear that they would prefer to use something safe and effective without putting messy, destructive and potentially hazardous chemicals on their skin and that of their families."
Bug Bam was launched in 2006 after Mr. Symond's first widely-publicized foray into the world of natural repellents back in 1997 in Australia led him to create a proven, proprietary, 100% natural formula for repelling mosquitoes and other flying, biting insects.
"Consumers today have become much more aware of their personal well-being and that of their children than they were 10 years ago," Symond says. "In fact, reports show almost 50% of US consumers will not use products containing DEET due to inconvenience and safety concerns. Bug Bam eradicates these concerns entirely and, not only do we have very satisfied customers, but independent testing at one of the top environmental labs in the USA has proven Bug Bam to be just as effective in repelling disease carrying mosquitoes as a liquid repellent, but without the need for liquids, heat, flames or smoke."
Bug Bams wristbands and grids were also recently approved for official sale in Nigeria - Africa's most populous country - after 18-months of grueling field tests and scrutiny by officials from the National Agency for Food and Drug Administration and Control (NAFDAC). As a result, Bug Bam is now being approached by a growing number of humanitarian organizations to play a key role in the global fight against Malaria.
Bug Bam products are 100% natural and use only EPA/FDA compliant ingredients and materials. They are available at BJ's Clubs, Wal-Mart, Walgreens, Basha's Supermarkets, AAFES and many independent retailers nationally as well as on QVC and online at Leaps & Bounds and Bug Bam's website.
###