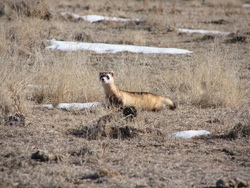 The black-footed ferret is the rarest mammal in North America, and the only ferret species native to this country
Logan Country, KS (Vocus) December 20, 2007
On Tuesday, at The Nature Conservancy's 17,000-acre Smoky Valley Ranch preserve in Logan County, Kansas, 10 endangered black footed-ferrets were released into the wild by the U.S. Fish and Wildlife Service (FWS). This reintroduction marks the first time that live ferrets, once believed extinct, have been documented on Kansas soil in 50 years.
"The black-footed ferret is the rarest mammal in North America, and the only ferret species native to this country," said Alan Pollom, state director for The Nature Conservancy in Kansas. "But today's historic event represents significant conservation progress, and shows that we are one step closer to removing these incredible animals from the federal Endangered Species list."
The nocturnal black-footed ferret, which weighs no more than three pounds and measures less than two feet, has been at the brink of extinction in recent decades due to disease, loss of native grasslands from land conversion and development, and a steep decline in the number of prairie dogs, their main food source. According to the U.S. FWS, populations of black-footed have decreased by approximately 95 to 98 percent over the last century.
Kansas has a rich natural heritage -- 28 of the 82 black-footed ferret specimens housed in the Smithsonian's National Museum of Natural History originated from the state -- but it's estimated that 80 percent of the state's shortgrass prairie has been converted to crop production, affecting not only ferrets but also species such as the Ferruginous Hawk, swift fox, and burrowing owls, which all depend on prairie dogs for major components of their food and habitat needs. In 1999, the Conservancy acquired Smoky Valley Ranch in order to conserve a dramatic example of Kansas' ecological, geological, archaeological, historical, and cultural history. Since then, the Conservancy has been working with local partners and government agencies to protect the area's unique natural systems.
Prairie dogs, the ferret's source of food, are unwelcome by many ranchers because of concerns that prairie dogs may compete for livestock forage. As a result, prairie dogs have for years been the targets of extensive eradication campaigns. At the same time, prairie dogs are considered by scientists to be keystone species in short- and mixed-grass landscapes. This divergence in perspectives has created long-standing tensions between some ranchers who are concerned over economic losses and those who are working to recover important species like the black-footed ferret.
The Nature Conservancy in Kansas and in the Great Plains states is working to conserve both prairie dogs and black-footed ferrets as part of fully functioning ecosystems. In coordination with the U.S. Fish and Wildlife Service, local landowners and other partners, The Conservancy is working to establish shortgrass prairie landscapes that will provide habitat for the ferret while protecting the interests of landowners and community leaders, and is working at sites all over the country to recover populations of prairie dogs, black-footed ferrets, and other key species.
"Today's reintroduction of these ferrets to the wild is important, not just for the species' recovery, but also for the people of Logan County and beyond," added Pollom. "The people of Kansas haven't seen these intriguing animals in 50 years, and black-footed ferrets have the potential to bring new visitors to the region and help spread the word about habitat conservation. Anytime we can move closer to removing an animal from the Endangered Species list, the whole nation benefits."
The black-footed ferrets released on Tuesday were produced in a federal captive rearing program, and each ferret will be tagged with an electronic locating device. While a high mortality rate for newly released ferrets in the wild is common, future infusions of both captive reared and wild captured ferrets are anticipated for the site and goals for ferret recovery are aggressive.
"Efforts to change the species' status from endangered to threatened involve establishing 10 free-ranging populations of ferrets, spread over large areas in the Western U.S.," said Dan Mulhern of the U.S. Fish and Wildlife Service. Our goal is to have 1,500 breeding adult ferrets established in the wild by 2010."
Shortly after Tuesday's release on the Conservancy's preserve, the FWS continued its recovery efforts by releasing an additional 14 ferrets in coordination with other nearby landowners.
If you would like images or b-roll of Tuesday's release, please contact Cristina Mestre at 703.841.8779.
The Nature Conservancy's Kansas Chapter was established in 1989, and has more than 7,000 members. The Kansas Chapter has helped protect more than 75,000 acres and actively manages five preserves comprising over 38,886 acres across the state. Learn more at http://www.nature.org/kansas.
The Nature Conservancy is a leading conservation organization working around the world to protect ecologically important lands and waters for nature and people. To date, the Conservancy and its more than one million members have been responsible for the protection of more than 15 million acres in the United States and have helped preserve more than 102 million acres in Latin America, the Caribbean, Asia and the Pacific. Visit The Nature Conservancy on the Web at http://www.nature.org.
###