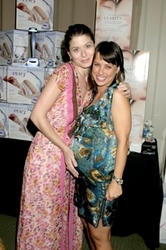 Wow! What a sound idea!
Hollywood, CA (PRWEB) September 28, 2007
NatureBright® receives its second annual honor to serve the stars at the official Pre-Emmy gift party held at the Roosevelt Hotel in Hollywood this month.
Over 100 stars were aglow as they opened their gift bags, filled with over $100,000 worth of products, to find this new PER3 Light Therapy Lamp.
NatureBright CEO Joshua Chen was there to represent the innovative product line and to explain to the stars how these natural lights work to alleviate depression, minimize the effects of jet lag, and provide a soothing gradual light alarm clock to gently wake you in the mornings.
The event was a celebratory and informative one for participants, as both celebrities and press crowded around Chen to find out how this new technology works and what therapeutic benefits they might enjoy. After a brief demonstration, the delightful Debra Messing said of the PER3, "I am very busy and have sleep problems, I think I need this product. Thank you for giving this to me."
Not for women only, these products are designed for easy use in the home. Kevin Dillon was wowed, "This is ingenious. I Love the concept." And adding his stamp of approval, Dr. Drew Pinsky remarked, "I understand that light can affect body clock and I believe this can help solve sleep problems."
Chen explained the appeal of NatureBright light therapy and skin care lamps, "We founded our company to help people of all ages feel better and look younger. We believe that it's possible to harness the healing power of the sun, and bring it into our home. Adding another health aid to one's daily schedule doesn't have to be an imposition. We want everyone to be able to take advantage of the soothing effects of light while not adding any pressure to our already overburdened lives."
Did the stars feel they were going to twinkle brighter? When they understood the ease of use, they responded more than enthusiastically. As Beau Bridges exclaimed, "I like the idea and will definitely try it." Leeza Gibbons seconded, "Wow! What a sound idea!" As practical as he is handsome, actor William Baldwin responded, "This works like a light alarm clock? Oh great!"
Share the discovery of the stars. Try PER3 Light Therapy Lamp or one of NatureBright's natural light therapy products. Tried by today's leading beauties, what better stamp of approval could a new product get? More information available at http://www.naturebright.com.
###