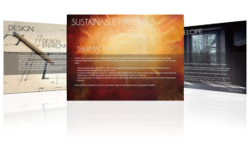 We created this guide to fight the perception that building green costs more
Welland, ON (PRWEB) September 27, 2012
Adding solar panels and wind turbines to a building may not be the smartest decisions if the goal is to build green at a low cost. Though beneficial, these kinds of items may not offer the best return for an investment.
NatureBuilt Wall Systems' new How to Build Green guide helps building owners to identify the key areas to spend time and effort to get the maximum returns. Often these areas are the least "sexy" but have the best payback. "People rarely think about things like orientation of the home, thermal mass or air tightness of a building but these can have a huge effect on utility bills and cost very little to implement. We created this guide to fight the perception that building green costs more." says Ian Weir of NatureBuilt Wall Systems. The guide is available for download at http://www.naturebuiltwall.com/how-to-build-green
The guide includes topics such as Design, Passive Solar, Building Envelope, Sustainable Materials and Energy Efficiency. With more and more people interested in building green this guide serves as a starting point and as a reference when making cost benefit trade-offs.
NatureBuilt Wall Systems Inc. manufacturers a prefabricated strawbale wall panel system that is environmentally friendly, airtight, super-insulated, made of all natural materials and goes up fast. Founded in 2009, the company's manufacturing facility is located in Welland, Ont.