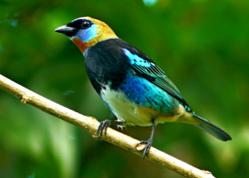 "Honduras offers a great combination: abundant opportunity for wildlife and bird watching, expert guides, post-card quality scenery, and fascinating, accessible Mayan ruins,"
Houston, Texas (PRWEB) November 30, 2012
November 28, 2012. Houston, TX. Naturalist Journeys, a top nature tour company, is proud to announce their upcoming March Honduras nature tours, which includes bird-watching amidst Mayan ruins and other historical sites and natural parks in Honduras. This year, the company pioneers a new Honduras birding tour in the central part of the country, one that allows inquisitive adventure travelers to explore beyond the boundaries readily served by luxury travel. Naturalist Journeys' owner Peg Abbott predicts that ecotourism has rich potential in this country the size of Massachusetts, one that few have explored, despite direct flights to San Pedro Sula leaving US airport hubs from Miami, Dallas, Houston, Atlanta, Los Angeles, and San Francisco, among others.
"Honduras offers a great combination: abundant opportunity for wildlife and bird watching, expert guides, post-card quality scenery, and fascinating, accessible Mayan ruins," explained Peg Abbott, owner of Naturalist Journeys. She continued, "Honduras is one of the most enjoyable destinations for expert nature travel companies like Naturalist Journeys because in rural areas, the Honduran people show genuine hospitality, welcoming us to their farms and homes."
To learn more about this exciting Honduran nature travel experience, go to

Description of Naturalist Journeys' Nature / Birding Tour of Honduras
The guided tour of Honduras is a birding and nature tour experience second-to-none as an off-the-beaten path way to experience Honduran wildlife, history and culture. Robert Gallardo, their Honduran-based expert birding guide, is held in very high regard. According to Peg Abbott, she first explored Honduras with Gallardo, whom she describes as "a gem: personable, well-organized, safety conscious and blessed with abundant expertise, all essential elements of guided nature travel." Abbott and her nature tour company work in close partnership with Gallardo who, with a Peace Corps background that first brought him to Honduras, networks well with other biologists, lodge and land owners in Honduras. Both share a strong commitment to ecotourism as a part of the nation's wildlife conservation strategy.
The travel company's March 22-29, Other Honduras nature tour, complements its already popular week-long guided group tour to scenic Lago Yojoa and the Mayan Ruins at Copan in northern Honduras, also led by birding tour expert Robert Gallardo. The tour can be booked as a stand-alone nature tour, or coupled with the Copan tour for real depth in adventure travel. The species most sought on this newly announced bird-watching adventure? The Ocellated Quail, considered by many one of the top 10 birds to see in Central America. Honduras holds perhaps the only site within its range where it is still common. Few have seen it, and in the spirit of adventure Naturalist Journeys hopes to make that possible this March in Honduras.
About Naturalist Journeys, a Top Nature Tour Company
Naturalist Journeys specializes in small group bird-watching tours and nature tours of key sites across North and South America and across the world. The nature tour company leads participants on intimate small group tour journeys for bird-watching, animal-watching and other forms of eco-tourism. Naturalist Journeys is a respected adventure and nature travel company that puts people, places and remarkable experiences together. Their style of environmental tourism focuses on nature -- specifically bird-watching, natural history, geology and geography.