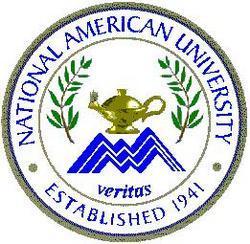 We're not surprised by the findings but it certainly sheds light on the added benefits to higher education
Austin, Texas (PRWEB) March 11, 2008
National American University (NAU), a fully accredited, four-year university with bachelor's, associate and master's level degrees, is helping Austinites increase their income by providing flexible degree programs that are tailored for working individuals and people with busy lives.
Few people talk about it, yet it's on everybody's mind. The amount of money a person earns can equate to more than just eating at nice restaurants and driving an expensive car. In fact, issues like healthcare, childcare and family vacations are all impacted by a person's salary.
Few topics are considered "off limits" amongst friends but a person's income is the exception. With so few talking about their paycheck, many may be astonished by current research findings. According to the U.S. Census Bureau, Adults with advanced degrees earn four times more than those with less than a high school diploma. Research also found women are increasingly obtaining their college credentials, with research revealing 33 percent of women ages 25 to 29 having a bachelor's degree or higher in 2007.
"We're not surprised by the findings but it certainly sheds light on the added benefits to higher education," stated Lisa Knigge, southwest regional president of National American University. In fact, the benefit is quite significant. The reality is financial stress far exceeds other stressors. The American Psychological Association found that money is a top source of stress for adults. Further, the Federal Reserve found that more than three-fourths of American families have debt. Although an increase in salary provides an incentive for getting a college degree, there are other benefits including personal development and increased career opportunities.
Traditional universities often require a fulltime commitment or provide class schedules that coincide with other responsibilities such as work or childcare. NAU is making a college degree more obtainable for busy individuals. "One of the reasons our programs are so popular with working professionals is due to our flexible degree programs," stated J.P. Foley, Regional Vice President of National American University. "Our students can take courses in the classroom or online. We also keep our classes small to provide personal attention, as well as provide each student with a Personal Career Coach to support them throughout their college career."
National American University recently launched their first classes in Austin and is already attracting the attention of many Austinites. With 66 years of academic expertise, National American University holds equivalent accreditation standards as state universities like The University of Texas at Austin or Texas A&M, which are members of the Southern Association of Colleges and Schools. NAU is also regionally accredited by the Higher Learning Commission and a member of the North Central Association of Colleges and Schools. Currently NAU provides classes in a temporary location while their Austin campus is being completed. The grand opening takes place later this year. For specifics on the Austin campus and registration, call Steve Anthens (512) 745-7022 or visit http://www.nauaustin.com
About National American University (NAU)
National American University (NAU) is a fully accredited, four-year university granting degrees on the bachelor's, associate and master's level. NAU's mission is to assist non-traditional students in earning their degrees within the accountability of a private, for- profit educational setting.
For more information on National American University nationally, please visit: http://www.national.edu.
###