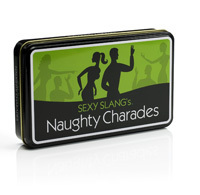 Tie Me to the Bedpost
New York, NY (PRWEB) May 29, 2008
PFF Entertainment, maker of the popular Sexy Slang board game, has launched its second board game called Sexy Slang's Naughty Charades. Naughty Charades is a smaller, "charades only" version of the popular Sexy Slang game.
Naughty Charades is the perfect Summer party game. Packaged in an attractive, lightweight tin, it is the perfect game to take with you to a beach house, picnic or 4th of July party. Like Sexy Slang, Naughty Charades is a party game, not a bedroom game like so many of the other adult games on the market. Naughty Charades was created to make people laugh and get the party started.
Naughty Charades contains two decks of game cards that list 300 Naughty Charades terms like "Pocket Rocket", "Tie Me to the Bedpost" and "Booty Call". Players split into two teams. Each team designates a member to act out the Naughty Charades term. Play starts with a "one, two three, GO!" and it is a race to see which team is the first to guess the term. Naughty Charades' creator, Christi Smith Scofield, says: "Since both teams' actors are acting out the same term at the same time, it is easy to cheat and peek a the other team if your actor is not very good. That is part of the fun. Also watching how two different people approach acting out the same term can be hilarious. Watching a cute petite woman and a big burly guy racing to act out something like 'Brazilian Bikini Wax' is absolutely hilarious," Scofield says.
The new Naughty Charades game arrived not only in time for summer vacation houses and barbecues, but also for the summer bachelorette season. Sexy Slang has proven to be a great addition to bachelorette parties and Smith expects the same excitement for Naughty Charades. It's an inexpensive and unique gift for the bride-to-be. Naughty Charades is the perfect game to get the girls laughing.
PFF Entertainment tested the Naughty Charades concept at the New York Toy Fair in February 2008 and it was an hit with retailers. Scofield immediately decided to take the game to production. Priced at $15.99, Naughty Charades is currently available on the PFF Entertainment website http://www.sexyslang.com and is being shipped to retailers nationwide.
PFF Entertainment's products include the Sexy Slang board game, the Naughty Charades board game and Sexy Slang apparel including over 60 funny t-shirts, children's clothes and underwear.
# # #