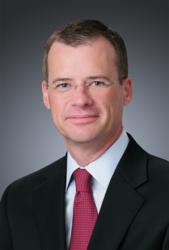 Winston-Salem, NC (PRWEB) December 05, 2012
Daggett Shuler, Attorneys at Law is pleased to announce that personal injury attorney and partner Douglas E. Nauman has earned an 'AV Preeminent' rating from Martindale-Hubbell Peer Review Ratings.
Martindale-Hubbell has been conducting peer-review ratings for over a century to identify and recognize lawyers with the highest legal ability and ethical standards. Lawyers are rated by their peers in the categories of legal knowledge, analytical capabilities, judgment, communication ability and legal experience as well as a high level of ethical standards. Martindale-Hubbell is the legal industry's leading and most respected rating organization.
Nauman received the highest rating, 'AV Preeminent', indicating that other lawyers and judges in the state rank him at the highest level of professional and ethical excellence. "We are proud of Doug. He has a passion for service and excellence that makes him a leader in our firm, and in the profession," says David Daggett.
"It is a very humbling experience to receive such an honor," Nauman said, "particularly because it comes from those who have been my role models and for whom I have the greatest respect."
Nauman has worked with David Daggett for more than 17 years, with prior experience in the areas of finance and insurance since 1984. He has extensive experience in the area of automobile insurance coverage and claims, including working for State Farm Insurance Company as a Claims Specialist. At Daggett Shuler, Doug is a partner and handles complex accident and wrongful injury cases.
Daggett Shuler, Attorneys at Law injury and disability lawyers has an experienced team that represents clients throughout the state of North Carolina. The Daggett Shuler team is dedicated to representing the rights of individuals injured by the negligent conduct of others, injured at work, or disabled. The firm has offices in Greensboro and Winston-Salem with its home office located at 2140 Country Club Road in Winston-Salem, North Carolina. For more information, call 336-724-1234. http://www.DaggettShulerLaw.com