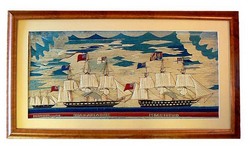 Jupiter, FL (PRWEB) January 1, 2009
On display is a collection of fine marine art, and difficult to find nautical antiques with an emphasis on authentic items of the 19th Century. These include ships cannons, sea service edged weapons, diving gear, sextants, and more.
Featured items will be a British Woolwork of warships from silent film star Norma Talmadge's collection, original paintings of ship portraits and other marine scenes, antique ship models, rare edged weapons including a Ketland-Medicus sword and a famous sabre dating back to the War of 1805. Ships bells, Chelsea and Seth Thomas vintage clocks, signal cannons, flintlock pistols, ships lighting, a fine collection of half hulls, rare mushroom style binnacles, an edition of four America's Cup Prints that are a deacession from Newport's Museum of Yachting, and more.
THE NORMA TALMADGE WOOLWORK: In the Talmadge family since 1922 when it was purchased in England by Norma Talmadge and then given to her niece where it has remained ever since. This is a rarely found large 48" x 28" woolie with three named warships both of which are rarely found. Norma Talmadge's husbands included film producer Joe Schenck, and her second husband was George Jessel, and Natalie Talmage, her sister was married to Buster Keaton. There is an abundance of British and Film Industry history wrapped up in this one piece. Truly something of distinction.
For further details of the Talmadge woolie go: http://landandseacollection.com/id497.html
THE KETLAND - MEDICUS SWORD: As documented in "The American Eagle Pommel Sword, the early years, 1794-1830" by Mowbray with an introduction by Norm Flayderman, this Ca 1805 example of a famous "Eagle Head" sword is in excellent condition and is exactly like the one in the famous Medicus collection. Its near 37" length suggests it would have been used by a mounted officer.
For details of this sword go: http://landandseacollection.com/id539.html
WILFRID O. WHITE LORD KELVIN MUSHROOM BINNACLE: Few Kelvin -Wilfrid O. White mushroom binnacles have ever been seen? And very few have found their way on the market. This one must have been made for a prestigious sailing yacht. This very handsome vintage binnacle with its rare early style mushroom or helmet shape has a large brass hood and belly with twin chimney's one on either side. The lamps, which are in perfect condition, have their original SIMPLEX burners that unscrew from the bottom. Made by White in collaboration with William Thomson, Lord Kelvin (1824-1907), the father of the modern compass, with whom Wilfrid O. White had a long association. Kelvin was one of the most important inventors of the 19th Century. Size assembled 17" H x 15 1/4" W Weight 40 lbs
For details of this binnacle go: http://landandseacollection.com/id482.html
JACOBS' COLLECTION OF QUALITY NAUTICAL ANTIQUES represents the finest in South East Florida, and is on a par with major dealers in the North East. Land And Sea Collection is primarily an internet company headquartered in Jupiter, FL, but their sales are worldwide. The Palm Beach Winter Antiques Show is the only one in which they exhibit which makes this an ideal opportunity to see their items first hand. Pricing is very reasonable for this level of quality.
The Jacobs Team represents over 100 years of combined experience and expertise in all aspects of the antique maritime arena and a no-nonsense guarantee of your satisfaction.
Go: http://landandseacollection.com
####