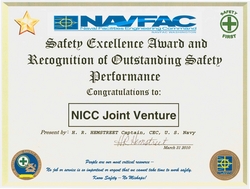 We're very pleased that NAVFAC has recognized NICCjv's safety performance and strong safety record with this award.
Reston, VA (Vocus) April 14, 2010
Naval Facilities Engineering Command (NAVFAC), Washington has honored NICCjv, a joint venture of Centennial Contractors Enterprises and North Island, with its Safety Excellence and Recognition of Outstanding Safety Performance Award.
NICCjv is one of ten NAVFAC Washington award recipients. To select the awardees the NAVFAC Washington safety team solicited feedback from the base commanders in the region and coupled that with their safety performance data.
Safety is the most important part of Centennial and its joint venture partners' culture. It promotes this "safety culture" through special luncheons and safety fairs for all employees and subcontractors, safety personnel, a safety Website and safety training, which is required within 30 days of hire for all staff.
NAVFAC used the following criteria to assess the winners:

Zero DART incidents throughout the life of the contract.
No significant government property damage for entire length of contract.
No safety non-compliance notices or stop work orders.
No findings identified during Occupational Safety and Health Administration (OSHA) compliance inspections.
Minimum Overall Satisfactory performance evaluation, including quality.
Cumulative Average score of 90% or better on contractor safety self-evaluation checklist where required by contract.
"We're very pleased that NAVFAC has recognized NICCjv's safety performance and strong safety record with this award," says Tony Lombardi, Centennial corporate safety director.
NICCjv performs renovation and repair projects for NAVFAC through a Job Order Contract at the Washington Navy Yard, Bethesda Naval Hospital, Patuxent NAS, MD, NSF Indian Head, MD, NSF Dahlgren, VA and Marine Corps Base Quantico, VA.
About Centennial Contractors Enterprises
For more than 20 years, Centennial Contractors Enterprises, Inc., has been a leader in providing responsive construction solutions supporting government, educational and business facilities and infrastructures, with projects focused on renovation, rehabilitation and repair. Centennial has offices throughout Maryland, Washington, DC and Virginia, including its headquarters in Reston. To learn more, go to http://www.cce-inc.com/Virginia . Follow Centennial breaking news on Twitter @CentennialNow.
This news release is available in Centennial's newsroom, http://www.cce-inc.com/news.
Contact:
Vince Duobinis
410-320-8336
###