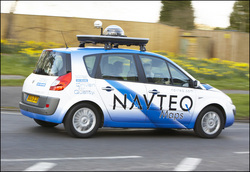 Symbian and Location: Trends and Technology
Chicago (Vocus) October 27, 2009
NAVTEQ, the leading global provider of digital map, traffic and location data for in-vehicle, portable, wireless and enterprise solutions, is offering a rich array of opportunities for developers and press attending The Symbian Exchange and Exposition (SEE 2009) in London on October 27-28, 2009 at Earls Court 2. NAVTEQ Network for Developers™ (NN4D) is a Bronze Sponsor of the show and will offer demo drives in NAVTEQ's digital mapping car on the first day of the show for developers to learn more about how professional-grade maps are built. To book a demo drive, please send an email to RideandDriveATnavteq.com.
A new event feature to this year's show, the innovative BlogTalkRadio, will feature live "on air" interviews with NAVTEQ and other key influencers as well as developers attending SEE 2009, in addition to broadcasting the track sessions from the Application Development seminar theater. Michael Moore, Technical Consultant from NAVTEQ Network for Developers™ (NN4D), will be giving a 30-minute presentation entitled "Symbian and Location: Trends and Technology" in the Application Development seminar track on day 1, October 27th, 2009, at 14:30-15:00.
With GPS becoming de facto on mobile devices, location based services (LBS) have the ability to bridge the virtual and physical worlds and really extend the use of the mobile phone. Developers can learn about trends in the location based application industry and how to include the technology in their own applications.
The BlogTalkRadio interviews with NAVTEQ will be on the following topics and times:

Advances in the field of mobile navigation - interview with NN4D & Imagination Technologies about the implications of increased deployment of hardware accelerated graphics technology on mobile phones and mobile internet devices, developer adoption of more advanced graphics in navigation and LBS, and advanced map rendering in 3D, using NAVTEQ 3D content. Time: October 27th at 10:30am UK.
Location content meeting consumer needs - technical interview with NN4D about how developers can use NAVTEQ dynamic Point of Interest (POI) content, NAVTEQ Traffic™ and NAVTEQ Discover Cities™ content to build compelling applications. Time: October 27th at 11:30am UK.
NAVTEQ Global LBS Challenge - Recipe for Success - interview with NN4D about the leading LBS developer competition, why developers should care and tips for how to make a winner. Time: October 28th at 10:00am UK.
The keys to unlocking the money vault - interview about NAVTEQ LocationPoint™ Advertising and how developers can make money on their applications and let consumers substitute paying for traffic or other location-based services by accepting location-based ads. Time: October 28th at 11:30am UK.
Developers are also encouraged to register for the EMEA region track of the 2010 NAVTEQ Global LBS Challenge® at http://www.LBSChallenge.com by November 6, 2009, and participate in the leading LBS application developer competition. The Third Runner-Up from the 2009 competition, Kishonti Informatics, will demo its NaviGenie 3D Mobile Navigation Framework in Imagination's booth (#14) on the new Samsung i8910 HD smartphone, using NAVTEQ map data and 3D content. NAVTEQ and Imagination Technologies have entered an agreement to stimulate 3D graphics innovation for navigation and LBS. See separate release today from Imagination for more details.
About NAVTEQ Network for Developers
NAVTEQ Network for Developers™ (NN4D) is a dynamic web portal and global community that provides developers and business partners with the technical and business support needed to build, showcase and launch the most innovative location-enabled solutions. The NN4D includes resources such as mapping APIs, LBS content, point of interest data, routing information as well as geospatial platforms and tools from NAVTEQ and its partners. Members can rely on NN4D when creating GPS-based applications for the web, mobile phones, GIS and portable navigation devices that employ traffic, navigation, location content and location-based advertising for enterprise and consumer use. Connect with the people, tools and resources you need to build and market your location-enabled products by joining today at http://www.NN4D.com/joindevelopers.
About the NAVTEQ Global LBS Challenge
First launched in 2003, the NAVTEQ Global LBS Challenge is a world-wide competition conducted by NAVTEQ Network for Developers™ (NN4D), daring application developers around the world to build innovative location-based services (LBS) using dynamic positioning technology and NAVTEQ® maps. Integrating the accuracy and richness of NAVTEQ digital map data and LBS content facilitates the timely evolution of the next wave of location-aware applications. The Global LBS Challenge has become the premier event in the LBS industry for shining the spotlight on global LBS innovation and opportunity. Over 32% of the finalists from the past six years have gone on to receive venture capital funding or launch commercially-distributed applications. For more information on this year's competition, go to http://www.LBSChallenge.com.
About NAVTEQ
NAVTEQ is the leading global provider of digital map, traffic and location data that enables navigation and location-based platforms around the world. NAVTEQ supplies comprehensive digital map information to power automotive navigation systems, portable and wireless devices, Internet-based mapping applications and government and business solutions. The Chicago-based company was founded in 1985 and has approximately 4,400 employees located in 192 offices and in 43 countries.
NAVTEQ, NAVTEQ Network for Developers, Discover Cities, Traffic, LocationPoint and Global LBS Challenge are trademarks of NAVTEQ in the U.S. and other countries. All rights reserved.
###