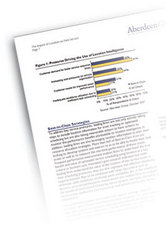 This study should be carefully read by anyone who manages a mobile workforce
Salisbury, MD (PRWEB) March 13, 2008
A recent survey of service companies nationwide by the AberdeenGroup revealed that nearly one-third of leading companies are using GPS-based location data to improve customer service and monitor assets.
The recently published study (valued at $399), partially underwritten by Navtrak, is titled "Impact of Location on Field Service" and is available as a FREE download resource at:
http://www.navtrak.net/pressreleases/redirect.cfm?leadID=22&cID=ABDNIOL
Highlights of the survey data include service companies reporting reduced overtime costs on average of 13.4%, which equates to a reduction of $496,493 in recovered overtime with the deployment of GPS-based location enabled technology.
In addition, location data is in widespread use to improve the scheduling and dispatching of technicians, vehicles and parts delivery in real-time, so as to improve service delivery and overall customer experience.
"Service excellence enablers (such as real-time driving directions or geofences)
actively leveraged by Best-in-Class service firms stem from organizational investments in location-enabling hardware," notes Sumair Dutta, AberdeenGroup Research Analyst.
Dutta adds that "GPS-enabled geofences can serve as effective tools to accurately alert dispatchers or managers to the misuse of assets across predefined boundaries, without the need to constantly track each and every asset."
"This study should be carefully read by anyone who manages a mobile workforce," concludes Jim Duncan, Navtrak's President. "Navtrak's GPS-based fleet productivity service provides tremendous insight into a mobile workforce, and provides the business owner a suite of powerful tools that can bring a real sense of accountability to the drivers. You simply cannot underestimate the financial impact a system such as ours can have on your operations."
About Navtrak
Navtrak, Inc., located in Salisbury, MD, is an industry leader in providing GPS vehicle tracking services and mobile workforce productivity solutions. Founded in 1999 and now serving thousands of customers across the country, Navtrak is committed to Driving Business Productivity™ with valuable, real-time fleet tracking, reporting and communication tools that improve efficiency and enhance customer service. For more information, please call us at 800.787.2337 or e-mail [email protected]
About Aberdeen Group, a Harte-Hanks Company
Aberdeen is a leading provider of fact-based research and market intelligence that delivers demonstrable results. Having benchmarked more than 30,000 companies in the past two years, Aberdeen is uniquely positioned to educate users to action: driving market awareness, creating demand, enabling sales, and delivering meaningful return-on-investment analysis. As the trusted advisor to the global technology markets, corporations turn to AberdeenTM for insights that drive decisions.
As a Harte-Hanks Company, Aberdeen plays a key role of putting content in context for the global direct and targeted marketing company. Aberdeen's analytical and independent view of the "customer optimization" process of Harte-Hanks (Information - Opportunity - Insight - Engagement - Interaction) extends the client value and accentuates the strategic role Harte-Hanks brings to the market. For additional information, visit Aberdeen http://www.aberdeen.com or call (617) 723-7890, or to learn more about Harte-Hanks, call (800) 456-9748 or go to http://www.harte-hanks.com.
# # #