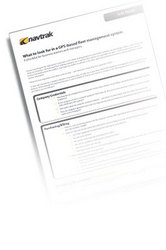 What To Look For In A GPS-Based Fleet Management System
Salisbury, MD (PRWEB) January 28, 2008
Navtrak Inc. today published a free checklist, "What To Look For In A GPS-Based Fleet Management System," for business owners and fleet management professionals of service and pick-up and delivery organizations who are evaluating GPS-based vehicle tracking systems to proactively manage their fleet.
The checklist covers 5 areas, and provides detailed questions to ask a prospective vendor, including:
1. Company credentials
2. Purchasing & billing processes
3. Hardware installation & servicing
4. Software features
5. Customer support & service after the sale
The free article, "What To Look For In A GPS-Based Fleet Management System," can be downloaded by clicking here: Navtrak.net/FleetManagementChecklist
When searching for the right partner to provide a GPS vehicle tracking system for your mobile workforce, the first thing to realize is this: it's not just about the technology. The tools most fleet tracking companies use to provide their services are essentially the same - a GPS receiver unit to provide location information from the satellites, road maps (accessible via software or the web), and wireless/Internet services to transmit and deliver vehicle activity information.
What's far more important is how these tools are used -- and what your overall, long-term experience will be. To that end, Navtrak has compiled a checklist of questions that can help you to determine which GPS-based fleet management system is right for your business.
Before making this important decision, Navtrak strongly encourages companies looking to invest in GPS tracking to find the answers to as many of the questions in the checklist as possible from the provider(s) you are considering.
As trusted GPS-based fleet management advisors with over 20,000 subscribers in virtually every industry, Navtrak can help any business navigate the process of evaluating and selecting the right provider.
About Navtrak
Navtrak, Inc., located in Salisbury, MD, is an industry leader in providing GPS vehicle tracking systems, fleet management solutions and vehicle tracking devices for businesses with mobile workforces. Founded in 1999 and serving thousands of customers across the country, Navtrak is committed to Driving Business Productivity™ with valuable, real-time fleet tracking, reporting and communication tools that improve efficiency and enhance customer service.
For more information, please contact Navtrak at 800-787-2337.
###