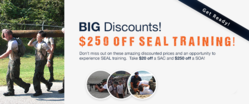 Whether or not you really intend to join the US Navy, and challenge the Navy SEAL Training program to become one of the nation's best, you can definitely gain amazing insight about these amazing Tactical Athletes; and an incredible amount about yourself.
Virginia Beach, VA (PRWEB) November 28, 2012
From the boardroom to the living room, folks from around the country are exchanging their suits, ties and kick around pajamas for a pair of camouflaged pants and a new attitude toward motivation and personal fitness. The intense interest over the US Navy's Special Warfare units, the Navy SEALs, has heated to a boiling point since the courageous raid upon the Osama Bin Laden compound hidden away within the country of Pakistan. People everywhere want to know just what it is that has set these extraordinary warriors apart, and what does it really take to become a member of one of our nation's most elite outcome units.
SEAL Training Adventures or STA for short is a company offering civilians the opportunity to train like a Navy SEAL! STA employs current and former Navy SEALs to train civilians on how to push past mental barriers and bring your health and personal confidence to new levels. In the season of giving they are also offering their programs at deeply discounted prices. $250 savings on the Special Ops Academy, their 7-day full emersion program and $20 savings on the SEAL Adventure Challenge, STA's 24-hour mini "Hell Week" can be found on their site.
It is said, that the rigors of this ultra-intense training regime are 80% mental and 20% physical, but what exactly does that mean? Well, now we all have the chance of a lifetime to find out- first hand, if we have the stuff that it takes to at least touch the line of Navy SEAL Training; and get a real taste of how challenging it can be. All Navy SEALs must first graduate from the Basic Underwater Demolition School, better known as BUD/s. This grueling education and training area is located in Coronado, California a place from where every US Navy SEAL ultimately emerges, they are baptized upon the surf of the Pacific Ocean; and with a re-forged body they have absolutely earned.
"Whether or not you really intend to join the US Navy, and actually challenge the Navy SEAL Training program to become one of the nation's best, you can definitely gain some amazing insight about these amazing Tactical Athletes; and an incredible amount about yourself."
With Navy SEAL led challenges, the SEAL Training Adventure is the oldest and longest running pre-BUD/s program originally created by former SEAL Team 6 member and Chief Warrant Officer Don Mann.
The Naval Special Warfare Center's BUD/s program is really an evaluation, training and proving equation with three (3) distinct transition periods. Transition one, or rather Phase (1): is the conditioning phase which endeavors to toughen and prepare a potential SEAL, both mentally and physically, for the difficult challenges they will face. Phase (2): is the diving phase where dive physics, underwater patience, comfort and other dynamics are measured through a critical metric of safety and mental focus. Phase (3): the land warfare phase puts an emphasis on technologies, assets and equipment familiarity, personal skills & war craft development, strategic thinking and tactical learning.
SEAL Training Adventures actually brings together individuals from around the country on a regular basis to participate in active SEAL Adventure Challenge's (SAC). A fun- but grueling 24 hour smack down, a mentally and physically demanding course; what they describe as a definite next level up, from a Tough Mudder event. If you are up for this sort of outdoor athletic teamwork, challenge dynamic and camaraderie environment- they even have an endurance program, which stretches a full week and ties the whole online fitness program into a culminated achievement experience. This lovely little course will instruct the hardened and committed individual, in many of the lesser known aspects of Special Operations teamwork, fitness and SEAL training skills like scuba diving, free fall sky diving, and even a day on the firing range with SEAL instruction and live ammunition. This Special Ops Academy (SOA) program, is definitely not for the faint-of-heart nor the mind that lacks psychological endurance. This program gives you a real "Gut-Check," as to the level of appetite for actually joining the SEALs, or even just experience the closest environment to it; this is the one to do.
So, what is the outcome from one of these motivating events, well, a team of highly motivated men and women emerges. This is the kind of stuff individuals would like to achieve at the office with a marketing and sales team, or the strategic planning team who likes cohesion, creativity and ideas that seize the competitive edge; which by the way is also available as a business program, and built for a far less physical group. Navy SEALs are known to be some of the brightest folks in the military and civilian community. With highly strategic and tactical minds, they excel in the process of assessment, analysis, planning and execution for very positive outcomes. Focusing upon the strategic mindset is another one of the invaluable discussion topics offered within their online membership services, and all members have complete access to these motivational discussions and insights.
It is all about a Transformation from a Home Body Couch Potato to a SEAL Training Adventures graduate. This is what their SEAL training programs are doing for men and women from all over the world.
"SEAL Training Adventures has given me the opportunity to continually challenge my mind, and my body, and motivating me to push past barriers like I used to do when I was a D1 collegiate athlete," said Doug Nelson, an STA Member, Workout Subscriber and former University of Florida Track Athlete. He recently passed through the fire of a 24 hour Challenge (SOC), and the Special Ops Academy (SOA) held in Virginia Beach, Virginia. Are you up for the challenge?