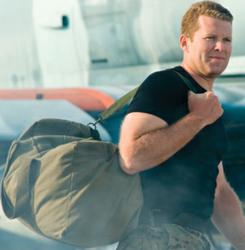 Alden Mills' inspiration for many of the Perfect Fitness products can be attributed to the physical training methods he learned as a US Navy SEAL.
Canton, OH (PRWEB) May 25, 2011
Alden Mills, co-founder of top-fitness brand, Perfect Fitness®, recently announced his company's product sales have reached over six million customers with its popularity continuing to grow.
Mills is a former U.S. Navy SEAL Platoon Commander whose passion for health and fitness has helped revolutionize the way America works out. The company's top-selling products, including Perfect Pushup®, Perfect Pullup®, and the latest creation, Perfect Situp®, were inspired by physical training methods Mills learned as a U.S. Navy SEAL.
While serving as Platoon Commander at SEAL Team TWO, Mills' platoon was selected for a one-year study to determine why SEALs suffered unusually high injury rates during their careers. The study found the injuries were linked to their training methods: decades-old repetitive body building drills that placed extreme stress on a few isolated muscles and joints.
As a result of the study, SEAL trainers switched to functional training, a technique based on the idea that people become healthier and more effective if they train the way they move naturally. Following SEAL service, Mills made it his personal mission to encourage others to take control of their brain, body and attitude by using the foundations of functional fitness, good nutrition, and positive attitude.
The Perfect Fitness Team spent three years developing their latest product the Perfect Situp®. Mills explained, "Three key elements differentiate the Perfect Situp® … One, its supreme comfort. Its design mimics the natural movement of the body. Two, a clicking device tells you how far to go up taking the guess work out of the exercise. Three, the Perfect Situp® is adaptable. As you get stronger, you can swap out the Perfect Situp's blades, getting more resistance, and continually challenging your fitness level."
"When you do a sit up, a lot of the muscle contraction occurs on the top of your abdominals. Over time, if you do enough of them, the hip flexors (the muscles on the top of your thighs) start to burn. It can hurt your lower back and, depending upon where you put your hands, it can also hurt your neck. Our mission with the Perfect Situp® was to make it more effective and reduce the pain and discomfort that people can often experience."
The Perfect Fitness® product line includes innovative fitness products and accessories including the Perfect Situp®, Perfect Pullup®, and Perfect Pushup®, resistance bands, and fitness balls available online and at over 20,000 retail locations. For more information about Perfect Fitness and Alden Mills, visit http://www.Perfectonline.com or find us on Facebook, Twitter and Youtube.
Perfect Fitness® partnered with Fitness Quest Inc. to provide supply chain and fulfillment operations, and expand sales. Fitness Quest Inc. is an Ohio-based marketer and worldwide distributor of popular consumer products. For more information: visit: http://www.FQIGroup.com.
###