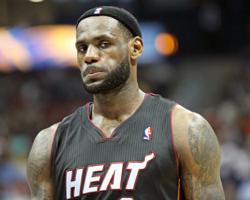 It's hard to say what Lebron James' salary will be in the 2013-2014 season, but he has argued that his monetary value to the NBA is worth far more than what he's earning.
Los Angeles, CA (PRWEB) June 06, 2013
Millions of basketball fans around the world will tune in to game one of the NBA Finals 2013, airing tonight, June 6, 2013 to find out whether reigning MVP and NBA Champion LeBron James can hold on to his title for a second year. In a recent assessment of the highest-paid athletes in the U.S., Sports Illustrated declared James to be the second-highest earning athlete in 2013 with a net worth of over $56 million.
While the NBA Finals 2013 are a pivotal moment for players to claim bragging rights, it also presents choice prize winnings for the league's leading team. In its latest investigation, GoBankingRates examines the NBA championship reward that's on the line and reveals what kind of monetary bonus LeBron James can expect from winning a 2013 championship.
According to the NBA, the 2012 playoff pool was at $13 million, and according to the GoBankingRates report, it has remained the same for the 2013 NBA postseason.
The findings of the investigation expose the category breakdown of the pool, as follows:

Teams with best record in its conference: $328,078
Team with best record overall: $347,947
Teams participating in the first round: $194,016
Teams participating in the second round (Conference Semifinals): $230,853
Teams participating in third round (Conference Finals): $381,482
Winning team in NBA Finals: $2,302,232
Total Team NBA Championship Winnings: $3,784,608
Stacey Bumpus, contributing journalist of GoBankingRates says, "It's hard to say what Lebron James' salary will be in the 2013-2014 season, but he has argued that his monetary value to the NBA is worth far more than what he's earning. In fact, he's argued that his worth is more than the league's current salary caps."
Also included in the report is an assessment of the athlete's endorsement deals, and how they contribute to James' bottom line.
See the full report on LeBron James' prospective net worth: http://www.gobankingrates.com/banking/lebron-james-net-worth-after-second-nba-finals-championship/
Note: The report's calculation divides the total NBA Championship reward funds into 72 parts (counting for Miami Heat's players, coaches, and other executives) concluding that LeBron James' estimated winnings are $52,564.
For questions about this report or to speak with a GoBankingRates editor, please use the contact information below.
About GoBankingRates
GoBankingRates.com is a national website dedicated to connecting readers with the best interest rates on financial services nationwide, as well as informative personal finance content, news and tools. GoBankingRates collects interest rate information from more than 4,000 U.S. banks and credit unions, making it the only online rates aggregator with the ability to provide the most comprehensive and authentic local interest rate information.
Additionally, GoBankingRates.com partners with a number of major media outlets such as Business Insider and US News & World Report to provide compelling and edifying personal finance content. Its expert editors have been featured and quoted on several premier finance websites like Yahoo! Finance, Forbes, The Street, Huffington Post and more.
Contact:
Jaime Catmull, Director of Public Relations
GoBankingRates.com
JaimeC(at)GoBankingRates(dot)com
310.297.9233 x261
Sources:
Sports Illustrated, "The Fortunate 50," 2013.
NBA, "2012 Postseason Information Guide," 2012.