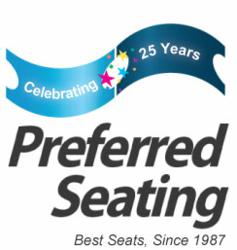 "The best deals for NBA playoff tickets are right now" says Greg Cullen of Preferred Seating Tickets. "Fans can expect ticket prices to go up each playoff round"
Sacramento, CA (PRWEB) April 18, 2013
The race is on for fans to find and buy NBA playoff tickets now that the season is over and with the playoff games off just days away. For the second year in a row the Miami Heat and Oklahoma City Thunder fans lead the way in requests for tickets from secondary ticket suppliers such as Preferred Seating Tickets. The best seats for the home games are often in the hands of season ticket holders and Preferred Seating has been the middleman to put fans in those seats since 1987.
The Miami Heat finished with the best record in the NBA and LeBron James looked unstoppable at times which makes them the favorites to repeat as NBA champions once again. Miami Heat playoff ticket prices are currently selling for around $80 and up on the secondary ticket market for the first two home games this coming Saturday and Monday at American Airlines Arena. As the eighth seed the Milwaukee Bucks will face off against the Heat but fans there can get in the door at the Bradley Center for a low price of $33 a seat.
Oklahoma City Thunder playoff ticket prices for their home games at Chesapeake Energy Arena mirror those of the Miami Heat with the cheapest tickets running just under $80 each. Last year the tickets for the Oklahoma City Thunder in the NBA Finals were some of the toughest to find and this year will be the same if they tangle with the Miami Heat again. Even without Kobe Bryant the ticket prices for the Lakers home games against the Thunder are running close to $90 each. But that may change with the series starting out with two games in Oklahoma City.
The New York Knicks and Boston Celtics series will get a lot of interest with ticket buyers for the playoffs but for most of the teams the first round doesn't get the fans nearly as jazzed up for tickets as the Conference Championships and the NBA Finals."The best deals for NBA playoff tickets are right now" says Greg Cullen of Preferred Seating Tickets. "Fans can expect ticket prices to go up each playoff round".
Preferred Seating Tickets has been working with season ticket holders for 26 years to put fans in the seats that may otherwise be unavailable to them and they're one of the only major ticket resellers that don't add hidden service charges to the posted ticket prices. Fans can buy tickets for the NBA playoff games online at PreferredSeat.com or by phone at 800 427-3914.