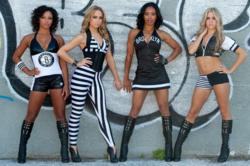 Pittsburgh PA (PRWEB) October 07, 2012
When the Brooklyn Dodgers played their last game in Brooklyn on September 24th, 1957, nobody could have imagined how long the borough would have to go without a major professional sports team. But on November 1st, 2012, the 2.5 million people living in Brooklyn will once again have a team to call their own – the Brooklyn Nets.
The Nets will play 41 regular-season games at their new home arena, the Barclays Center. But Barclays Center will also host 179 other events next year, from Disney on Ice to USA Gymnastics. Brooklyn Nets tickets will likely be sparse considering the Barclays Center's 18,500 seats in a home to millions. Barclays Center is a $1 billion arena located at the corners of Flatbush and Atlantic avenues, near a major subway hub.
One of the major advantages of shopping with secondary ticket websites such as HeadlineTickets.com is the availability of tickets, besides taking advantage of the lowest post-fee and delivery prices. Fans locked out of the public sale for Brooklyn Nets tickets can still find them available at secondary ticket websites. Fans that can't wait for the regular season on November 1st can also find tickets for preseason home and away games in October at HeadlineTickets.com:
Washington: October 15th
Boston: October 18th
Philadelphia: October 19th
New York Knicks: October 24th
After a 2011-12 season that was not only marred by a lockout, but also a struggle for the injury-ridden New Jersey Nets, the now Brooklyn Nets are hoping that a fresh start in a new venue will help them come back from last season's bad luck. In stark contrast were the New York Knicks, who were able to clinch a playoff spot for the second year in a row last year. Should the Brooklyn Nets defeat the New York Knicks on November 1st in a game already being dubbed the "battle for the Big Apple," the win would be a landmark in Nets history.
About Headline Tickets
Headline Tickets Now is one of the most popular secondary ticket websites on the Internet. They have affordable sports, theater, and concert tickets across the United States and Canada, all without service fees. Headline Tickets Now is an accredited business with the Better Business Bureau (BBB) of Western Pennsylvania.